2021 Direct Mail Strategy Cheat Sheet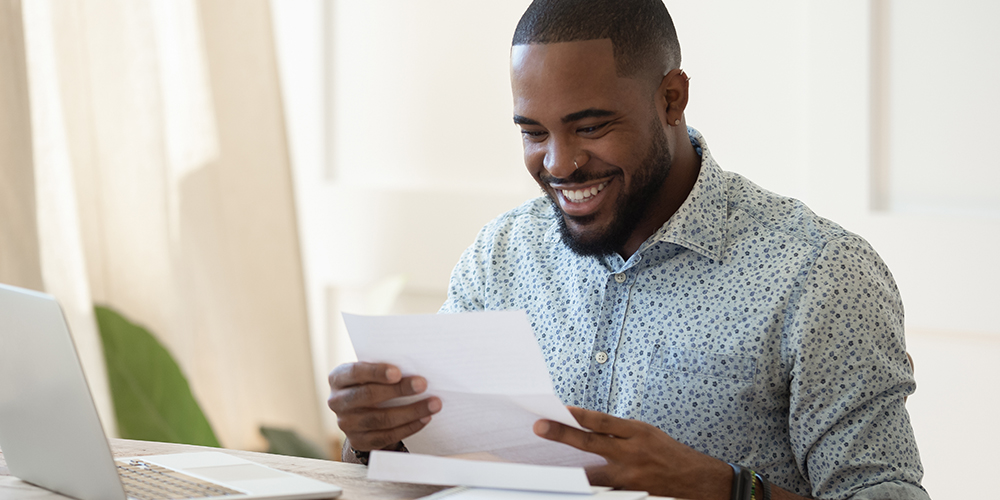 A recent report, authored by our direct response partners at Competiscan, shares direct mail channel trends and predictions for a variety of B2C industries in the coming year. We've summarized key findings from the report and added insights from our own direct marketing experts to create our 2021 direct mail strategy cheat sheet. Keep reading for volume predictions, creative trends, and targeting expectations to help you advance your 2021 direct mail program.
Financial Services
Digital banking and financial options have become a top priority for consumers and, in response, financial service brands launched innovative value-added tools throughout last year. The industry continued to mail with modest volumes in 2020 (except for investment/annuities providers), and we expect 2021 to be relatively consistent with slight increases in acquisition mailings, as consumers slowly and safely return to pre-pandemic lifestyles.
We expect marketers to use offline channels to promote digital enhancements and invite consumers online to manage investments, interact with virtual assistants, and even secure financing from the comfort of their home. Flexibility in welcome offers and reward redemption could become a permanent change to retain customer loyalty and continued service usage in credit services. Investment firms are likely to focus their content on professional advice and financial wellness resources to keep consumers engaged and assured.
Insurance
Personalized advertising is proven to impact buying decisions and strengthen customer loyalty. This year, insurers will continue to leverage machine learning and artificial intelligence to enhance print collateral with customized variables that fulfill the customer's desire for personal experiences at various touchpoints throughout the customer journey. Just like financial service firms, they too will be focused on creating unique and engaging digital environments to seamlessly move prospects and customers from one channel to the next as they interact with carriers and their policies.
Throughout the pandemic, the insurance industry has led with mail volumes similar, or higher, than pre-pandemic levels. Wellness and mental health programs have been trending in the space, with Competiscan reporting a 106% increase in year-over-year producer-facing communications referencing behavioral health. It is expected that more carriers will accelerate marketing efforts for these services by showcasing their virtual health programs and technologies. An increase in offers surrounding virtual enrollment, accelerated underwriting, and digital demonstrations is also anticipated.
"People are paying more attention to what's in their mailboxes again, so it's time to showcase your products, regardless of industry, in a space where you can literally get into the hands of your prospects," said Tari Johnson, SeQuel Creative Director. "Keeping a clear emphasis on your message and adding something visually interruptive can make a huge impact on brand awareness as well as response."
Retail/Consumer Services
2020 has been the year of e-commerce, and this consumer shopping trend is not expected to fade anytime in the future. As our quarterly trends show, industry mail volumes have increased by 15% year-over-year as marketers shifted to increase spend in the channels best positioned to reach home-bound audiences. Acquisition, retention, and winback mailings have been paired with digital channels to drive e-commerce growth, enhance customer experience, and preserve customer affinity.  This year, brands have leaned into re-targeting capabilities to reach anonymous audiences, social communities, and former customers with compelling and timely incentives and offers. To address the economic concerns of many consumers, marketers should consider how they can support pay later and other short-term financial options to stimulate purchases.
DTC direct mail creative has also evolved to meet consumer demand over the past year. Competiscan research shows the use of QR codes has doubled and more than 70% of all mail pieces are personalized. To promote simplified checkout, brands are using mobile friendly PURLs and auto-fill forms. Marketers are also leveraging AI to allow customers to try products before purchase. These types of creative enhancements help bridge the gap between physical and digital messaging while encouraging longer, more meaningful interactions with the mail piece.  
Travel
The pandemic has greatly impacted the travel industry. Many marketers paused or reduced marketing efforts while Americans hunkered down at home. It is anticipated that the release of the COVID-19 vaccine and renewed consumer confidence in safe travel will lead to the revival of the travel industry in the second half of 2021. And as the travel itch continues to spread into the new year, travel-inspired marketing is likely to rise along with it. We expect incentives, loyalty programs, and safety precautions to remain front and center in direct mail messaging.
Telecom
The consumer demand for reliable internet and wireless services has intensified throughout the past year, and telecom providers are expected to continue to increase marketing mail volumes in 2021 to separate themselves from the competition. Although popular with credit card and insurance companies, the use of pre-screen offers by telecom providers was rarely used in direct mail marketing campaigns prior to the pandemic. According to Competiscan, 12% of all telecom mail volume now features a pre-screen offer, with continued use projected throughout 2021. To further support customer acquisition and loyalty, the industry may also leverage additional incentives such as free access to streaming platforms or discounts for bundling multiple services to engage consumers.   
"The direct mail industry is ever-evolving, as marketers are always looking for new ways to increase consumer interaction and engagement," explained Erik Koenig, SeQuel President and Chief Strategist. "For campaigns to continue to progress and perform, a purposeful and consistent testing strategy with key signals for success is vital. Then, brands must stay nimble to respond to findings and emerging trends."
Find more 2021 direct mail strategy insights and projections on our blog, or contact us directly to learn how we can help you grow.