Direct Mail ROI Surpasses Digital Mediums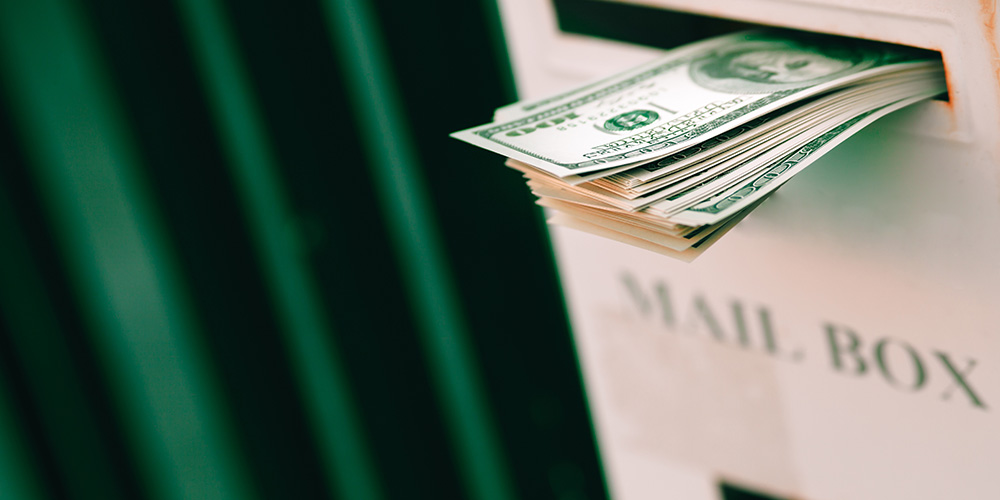 Direct mail return on investment surpasses top digital mediums, according to findings from the 2021 Association of National Advertisers (ANA) Response Rate Report.
Published January 2022, ANA's report highlights 2020 benchmark performance and cost data across direct marketing channels including direct mail, paid search, digital display, email, social media, and SMS.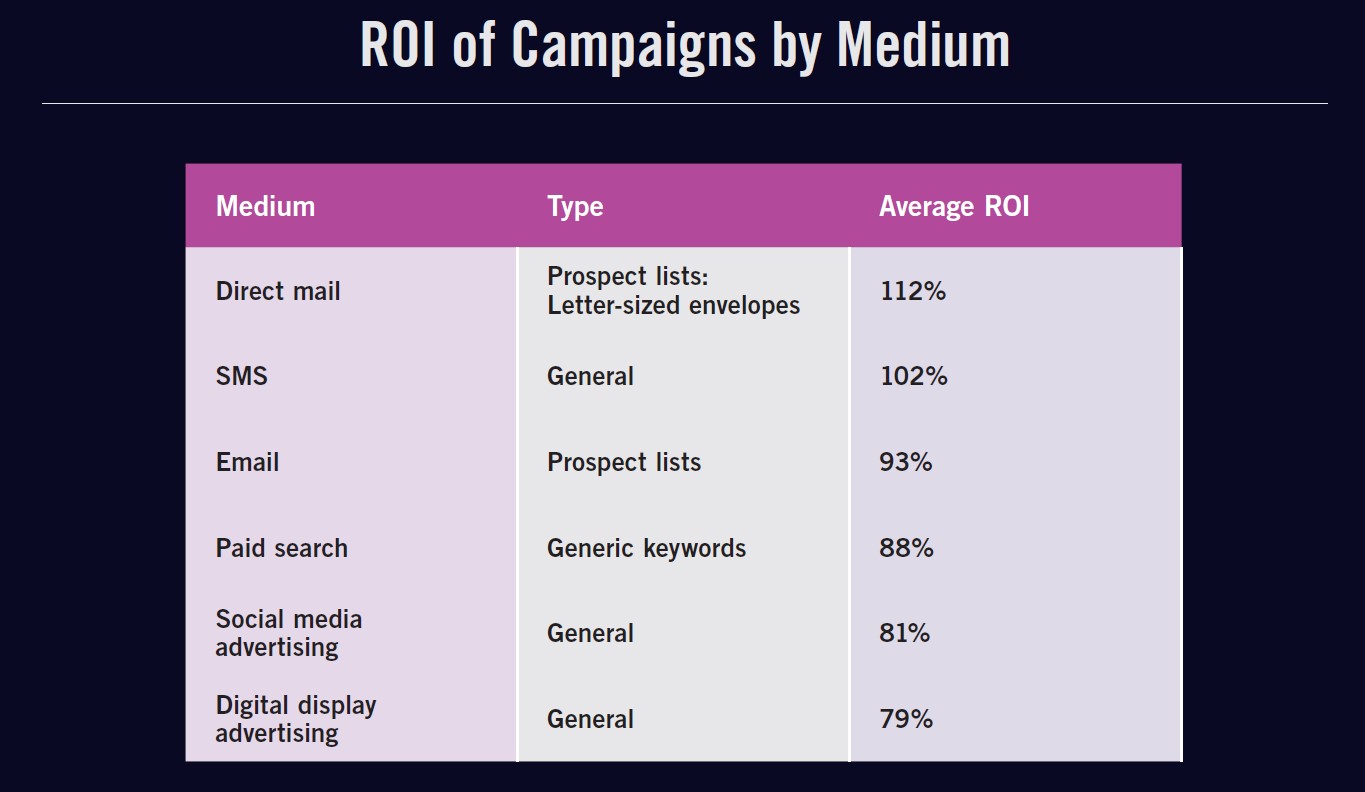 The 2021 ANA Response Rate Report shows direct mail ROI surpasses digital mediums. © Association of National Advertisers
Key Findings from the 2021 Response Rate Report
Direct Mail Return on Investment
Direct mail ROI is the strongest with letter-size mail, outperforming all other marketing media and reporting the highest average ROI of 112% when sent to prospect lists. SMS follows with a ROI of 102%, while email to prospect lists rounds out the top three with a 93% ROI.
Most Used Direct Marketing Media
Direct marketers report email marketing (82%) as the most used media type in 2020, declining 6% since the 2018 Response Rate Report. Social media advertising (74%), paid search (51%), digital display (42%), direct mail (38%), and SMS (18%) top off the most used direct marketing media list. When deploying multichannel campaigns, DTC marketers use an average of 3.2 channels.
If your brand is new to the direct mail channel, download our free e-book, Direct Mail 101: How to Grow and Scale with Direct Mail. Inside you'll find 7 short guides to help you develop a fast and flexible direct mail program to find, acquire, and retain your best customers. The e-book also features a closer look at 3 brands who are using direct mail to generate leads, increase sales and boost customer LTV.
Future Marketing Channel Strategy
Nearly 80% of ANA respondents plan to continue or increase the use of direct mail. At least half of those surveyed plan to increase their use of email, paid search, social media advertising, and SMS over the next year. Social media advertising usage is the least likely to decrease. In the future, DTC participants are most interested in learning more about QR codes, organic search, and live chat technologies for direct marketing use.
Erik Koenig, SeQuel Response President and Chief Strategist, gave his perspective on the report's findings, "It's worth noting that although the direct mail return on investment is the highest, it still remains relatively underutilized when compared to its digital peers in this study. Yet, results also signal the shift happening among brands, even digitally native ones, as nearly 50% of marketers plan to increase physical mail spend this year. It indicates that those who are utilizing the mail channel are enjoying its ROI and scale opportunities. And if they aren't yet using the channel, they are looking to explore the lucrative possibilities presented by direct mail in the near future." 
Direct Mail Usage
Direct mail is used in 44% of DTC campaigns, trailing slightly behind paid search (52%) and ahead of digital display advertising (35%). Overall, the primary purpose of a direct mail campaign is to generate leads (29%).
Industries using direct mail marketing
Automotive is the number one industry using direct mail (70%), followed by travel and hospitality (53%), financial services (51%), and retail (48%). Nearly half of marketers use the offline channel for B2B products and services (42%), financial services/insurance (41%), and health care (40). Consumer products and services (36%), technology and communications (31%), and publishing/media/entertainment (29%) complete the top ten mailers.
Response tracking
Online tracking, such as Personalized URLs (PURLs), is the preferred response rate tracking method by 59% of respondents. Codes or coupons (29%), call center or telephone (25%), matchback (25%), and linked sales transactions (20%) follow. Derived or calculated (13%) and list coding (8%) are the least used response metrics.
Format
Preferred by more than half of marketers, the letter-sized envelope is the most used direct mail format for both house and prospect mailings. Letter-sized envelopes also prove to deliver the best direct mail ROI at 112%.
Postcards are a close second, with 49% of marketers using the compact format when mailing to house lists and 51% when mailing to prospects. Postcards earn an average direct mail ROI of 85%.
Oversized envelopes and dimensional packages both average a direct mail ROI of 92%. House lists receive oversized envelopes 21% of the time and dimensional packages 19%. When mailing to prospects, dimensional packages (29% of direct mail mailings) are 3% more likely to be used over oversized envelopes (used with 27% frequency).
How DTC marketers are using direct mail
Among DTC marketers, the intent of a direct mail campaign is equally divided amongst making a direct sale (17%), engaging prospects (17%), engaging customers (17%), and driving traffic to retail locations (17%). Customer communication (12%), lead generation (8%), and brand awareness (4%) are also among top priorities for DTC mailers.
Most DTC direct mail campaigns include a combination of prospect and house lists. 75% of DTC marketers prefer postcards when mailing to prospects. When mailing to house lists, letter-sized envelopes (61%) are used most frequently.
Want to learn more about direct mail's ROI performance?