E-BOOK SNEAK PEEK: The Financial Marketer's Digital Playbook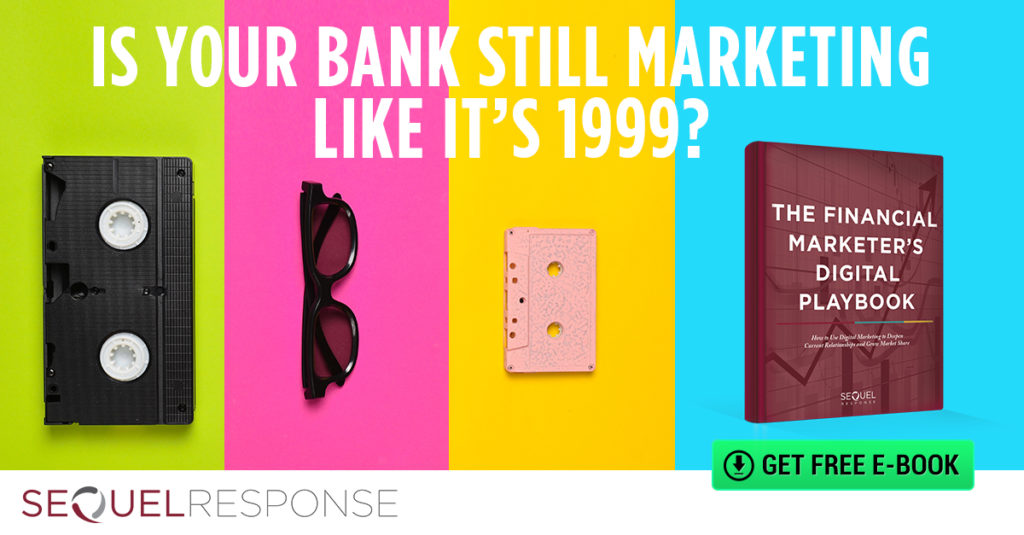 For years, financial institutions (FIs) such as community and regional banks and credit unions have prided themselves on superior customer service, consumer-friendly interest rates and fees, and more personalized customer relationships and experiences. Where they've historically fallen short, however, is driving scalable growth in critical areas without relying on bankers and tellers to constantly pressure existing customers with cross-sell and up-sell offers (which can quickly compromise any competitive advantage in the area of customer experience). For nationwide banking conglomerates, the answer has for years come in the form of pricey digital marketing tools. But not every bank and credit union enjoys such deep pockets.
Fortunately, these days, a tight budget is no longer an excuse for stagnant growth, as advances in advertising technology mean FIs of all sizes now have more sophisticated digital marketing tools within budgetary reach than ever before.
The new e-book, "The Financial Marketer's Digital Playbook," gives you six keys to deepening current relationships and growing market share (and the cutting-edge digital strategies that will get you there the fastest). In this "sneak peek" post, you can read one of those six keys. To see the rest, simply download the entire e-book for free.
Across the board, the latest research shows that FIs are placing a much greater emphasis on digital marketing. According to the The Financial Brand, the percentage of respondents who named "increase adoption of digital channels" as a top-three priority increased by 75% year over year. That shift catapulted digital adoption from No. 7 to No. 3 on the list of bank marketers' most critical objectives over the next 12 to 24 months, moving it ahead of even "customer/member acquisition." Ranking of the Top Three Marketing Priorities What are your financial institution's top three marketing priorities for the next 12-24 months?
[caption id="attachment_3603" align="alignnone" width="640"]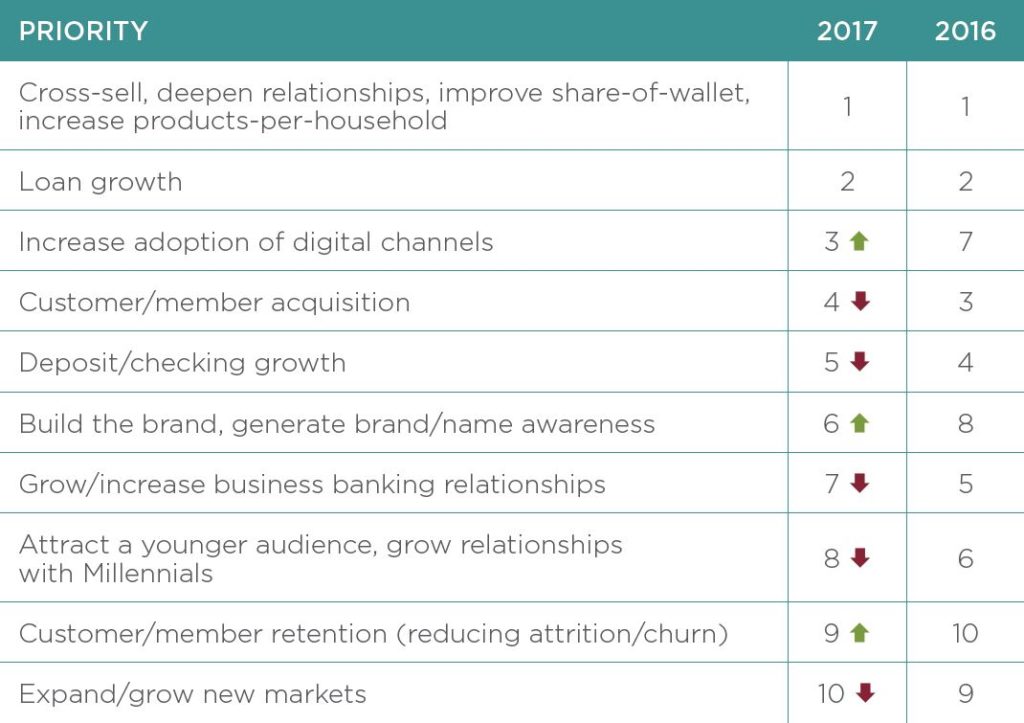 2017 Financial Marketing Trends Digital Banking Report[/caption]
  Unfortunately, marketers at community and regional banks and credit unions have been slower to adopt the sophisticated digital marketing strategies of their larger competitors.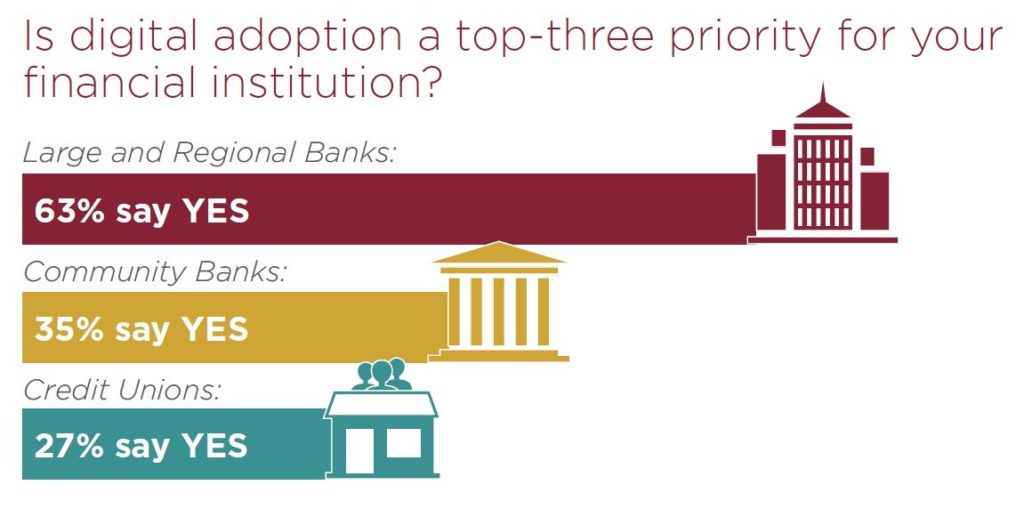 FIs are not only missing out on the chance to get a significant digital head start on their similarly-sized competitors—they're also overlooking an opportunity to steal market share away from the big guys by using new 1:1 targeting strategies that are far more cost-effective than they might think.
A word about "impressions" At the end of the day, the goal for FIs hasn't changed much. They're still aiming to convince prospective and existing clients to entrust them with their life savings, dream purchases and financial legacies. And in order for FIs do that, it's still critical that they make a warm first impression. Or, in cross-sell and up-sell efforts, a warm second, third, fourth (and so on) impression. The only difference today is, consumers don't spend nearly as much time in branch locations as they used to, so those impressions take place far less frequently on the leather couch of a local bank branch with a complimentary cup of coffee in hand. Today, they typically happen in a paid search result, Facebook post, YouTube video, display ad, email, "how to" blog, etc. In other words, the process of identifying potential customers (and opportunities to cross sell current customers) now has to happen virtually. After conducting a recent survey of 3,000 banking- and investment-product consumers across the U.S., research and consulting firm McKinsey & Company observed:
"The way to drive revenue relies on being able to attract consumers when they're searching online or on mobile. Excellence in digital marketing—from search engine optimization to using design thinking for great site experiences to real personalization—will particularly reward those companies selling products or services that are relatively simple to research online (e.g., credit cards, auto loans, personal loans)."
According to McKinsey, over half of these consumers are doing their research using digital channels, and among consumers researching a checking account, for example:

"Clearly," McKinsey concluded, "digital channels are dominating the top of the funnel."
The FIs that most seamlessly adapt to this shift will be the ones that build market share the fastest relative to their competitors—hence the reason for this e-book. In the pages ahead, we'll briefly highlight the six keys to growth for FIs today, and equip you with proven digital marketing strategies to help you effectively tackle each one.  
Key #1: Acquire New Checking Accounts
A checking account is by far the most common entry point for consumers starting a relationship with a financial institution, which is why many retail banks continue to aggressively pursue checking account business. However, acquiring new accounts is a difficult objective, since most new accounts are switchers or new movers and often require incentives to come on board. DIGITAL STRATEGY: Like direct mail, digital acquisition strategies are best built around look-alike modeling, either by onboarding CRM data into walled garden platforms like Facebook, Google and Twitter to build audiences that leverage each platform's unique data set, or by building dynamic models using website-visit data. Digital look-alike models can take thousands of variables into account in their construction, including web browsing history, in-app behavior, mobile location data, as well as integrated third-party data sets. Important advantages of online look-alike models are dynamism and recency. Built on machine learning, they literally change and improve from moment to moment as the constant stream of new data is read and used to optimize the models. There are two main ways to build look-alike models on major audience platforms. One option is to simply onboard a file of current customers and let the platform model a new audience that looks the most like current customers. Or, a bank can place a pixel on important pages of a site (the online checking login page for example) and build a look-alike audience based on this cookie/ID pool. Due to privacy concerns, banks will likely find it most appealing to build new audiences using site data, which is easy to do with the leading social ads and machine learning-based programmatic display platforms. Combining dynamic look-alike models and powerful machine learning algorithms permits financial institutions to spend only on prospects that are most likely to open accounts, thus dramatically improving the efficiency of digital budgets.   ---------   Don't stop here! Keep reading to discover five more keys to deepening current relationships and growing market share.