SeQuel gives clients 24/7 online access to campaign analytics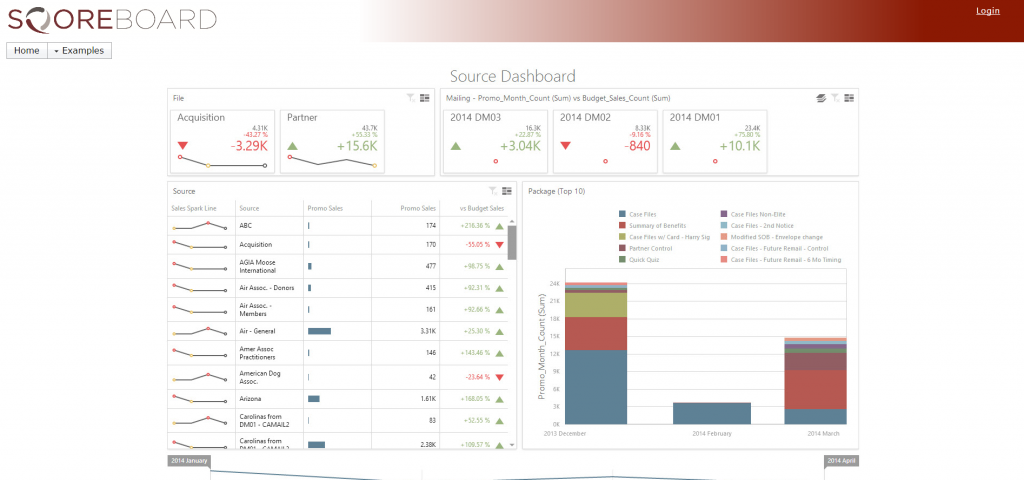 SeQuel's custom-built, cloud-based sQoreboard tool now provides our clients with real-time online access to campaign analytics.
"There are numerous database analytics tools out there, but there has been nothing—to our knowledge—until now that was specifically set up for direct marketing," said SeQuel's VP of Data & Analytics, James Fussy. "It greatly simplifies how we construct analytics for our clients, as opposed to a very manual process that might take a week or more for us to crunch the numbers."
sQoreboard automatically compiles campaign highlights in easy-to-comprehend charts and graphs for web, tablet or mobile. Our clients can view the results whenever they want, allowing them to make informed, time-sensitive business decisions that can make or break their campaigns.
"It's 100 percent customized to what is appropriate for each individual client," Fussy said. "If they have a question like, 'How did List B do in Package C?' they don't have to come to us and say, 'Can you run me this report?' It's very easy to navigate, which has been a large gap in our industry—user-friendly analytics tools."
SeQuel developed sQoreboard and has been extensively testing the proprietary tool for the past year with one of our largest clients, but it's now available to our full roster of customers.
"We have yet to find anyone that provides direct-marketing services like we do that also offers a product such as sQoreboard," said SeQuel's Co-Founder & Chief Operating Officer, Jay Carroll. "We believe this technology—along with SeQuel's ability to interpret results and set future strategies—gives us another significant point of differentiation in the market."
Want real-time access to campaign analytics?