SeQuel Response's digital strategy helps propel double-digit enrollment growth for leading natural health university
Since selecting SeQuel Response as its digital demand-generation agency in October 2016, the admissions department at Northwestern Health Sciences University has experienced dramatic year-over-year growth across some of its most critical key performance indicators, including:
Triple-digit increase in inquiries from digital advertising
Double-digit cost-per-inquiry reduction
Double-digit increase in inquiries across all web channels (paid and unpaid) with sharp increases from cities in close geographic proximity to the university
Double-digit increase in attendance at a critical on-campus pre-admission event
A full prospect pipeline populated with 100-percent branded leads (no lead-aggregator sources)
The impact of the dramatic growth in inquiries is now fully manifest in the university's fall 2017 incoming class, its largest in seven years. Fall new-student starts are up 14 percent year over year, and the institution's flagship Doctor of Chiropractic program enjoyed 27 percent year-over-year new-student growth in an otherwise flat market.
Digital Ads, Landing Pages and Custom Content
Paid Search: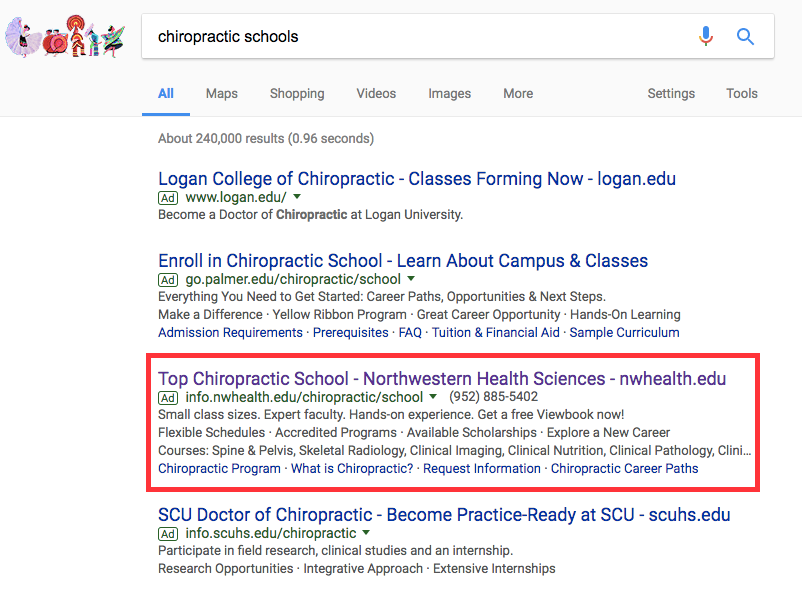 Twitter: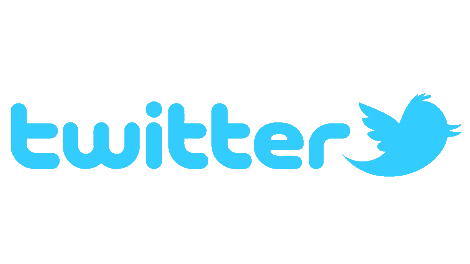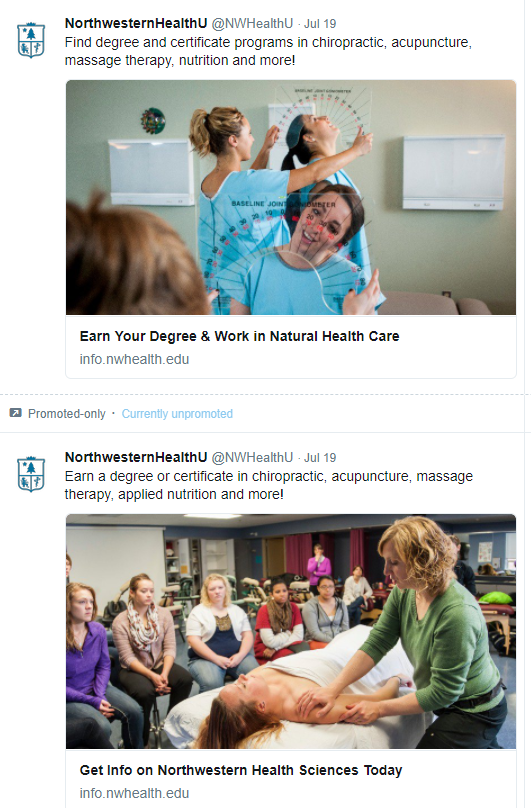 Facebook: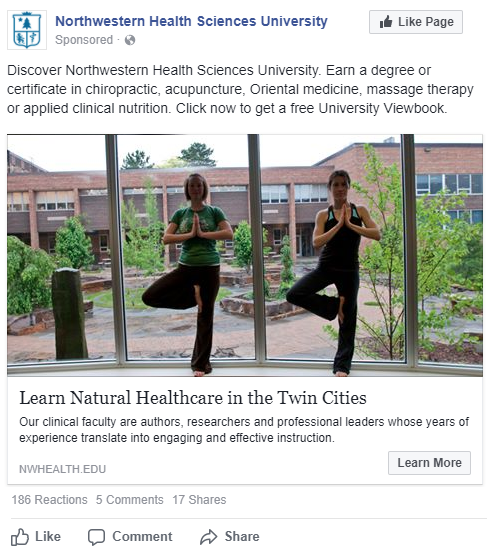 Display:


Custom Blog Content: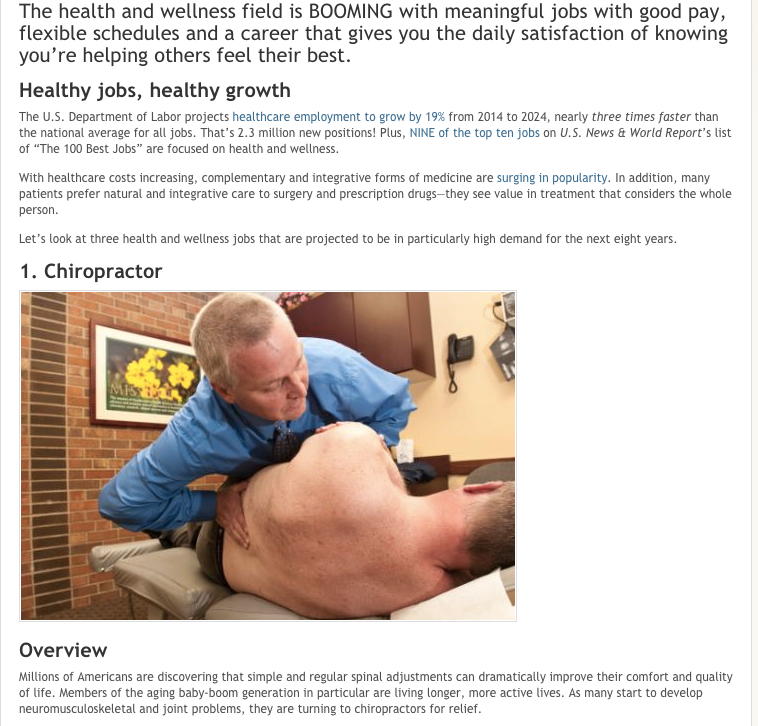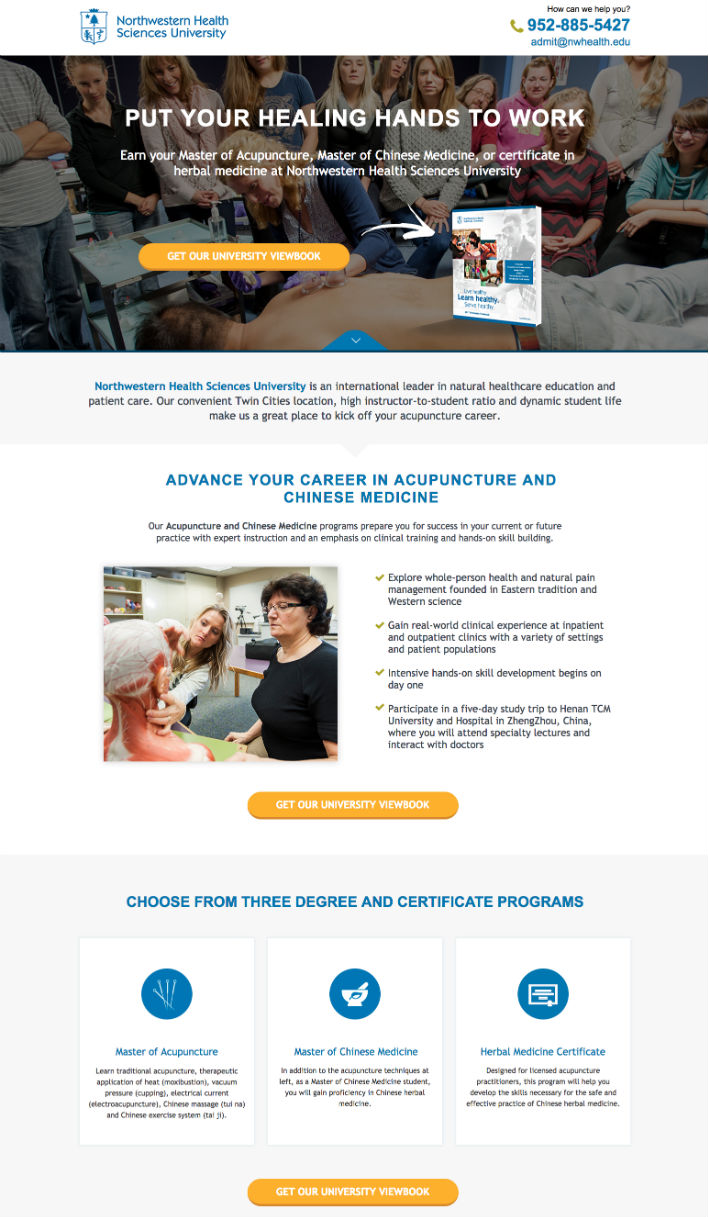 About the Client
Northwestern Health Sciences University is a private, nonprofit, fully-accredited teaching and research institution with a campus in Bloomington, Minn. The university offers multiple degrees and certificate programs through a College of Chiropractic and a College of Health and Wellness.
Client Challenges
Like most higher education institutions, Northwestern was looking to boost its enrollments but was struggling to cost-effectively fill its enrollment pipeline with the necessary volume of prospective students. The university had turned to a digital agency for help, but nearly a year into the engagement, Northwestern still wasn't getting the necessary volume of inquiries, nor was it achieving a sustainable cost per inquiry. To supplement the shortage of leads, the university had been forced to purchase leads from third-party aggregators, which came with high costs and low downstream conversion rates.
SeQuel Strategy
Upon being awarded the account, the digital strategists at SeQuel quickly went to work, diagnosing glaring problems that, once remedied, would have an immediate impact on performance. For example, the university lacked program-specific landing pages that were optimized for conversions, the campaigns lacked a compelling offer, and there were gross inefficiencies in the paid-search and display accounts structures.
Beyond the low-hanging fruit described above, SeQuel optimized the university's paid-search account (Google AdWords) and introduced Bing Ads, as well as other digital channels that would build oft-neglected yet essential top-of-funnel awareness in the geographies most relevant to the institution. This included targeting the most relevant prospects across massively scaled audience platforms, such as Facebook, Twitter and the Google Display Network. SeQuel wrote and designed program-specific creative across all platforms, created program-specific landing pages, introduced a compelling content asset offer, and developed blog content for the university's website regarding career opportunities in natural medicine, which was used in the Facebook campaign as an efficient and effective strategy to build an engaged retargeting audience.
Results: An Immediate and Dramatic Impact
In October 2016 (SeQuel's first month running Northwestern Health's digital campaign) web inquiries from digital marketing efforts increased by 53 percent over the monthly average from the previous nine months, and cost per inquiry decreased by 38 percent. These results were achieved simply through strategic Google AdWords account restructuring. In subsequent months, SeQuel expanded digital channels beyond simply Google AdWords to include Bing paid search, Facebook ads, Twitter ads, Google Display Network and Google Remarketing (retargeting) to create a comprehensive multi-network, full-funnel digital campaign. SeQuel applied its deep expertise in direct-response marketing best practices across all channels, paying special attention to the post-click user experience. SeQuel's strategists built conversion-focused landing pages using a leading landing-page platform, which permitted rapid deployment and iteration for A/B testing.
The results in the following months, after all aspects of the SeQuel strategy were implemented, pushed performance well beyond the university's expectations.
Digital Advertising Performance
Inquiry volume (admission info requests) from digital advertising, including paid search, paid social and display, increased by 673 percent year over year, with average cost per inquiry decreasing by 70 percent.
Organic and Direct Channel Performance
The benefits of SeQuel's full-funnel campaign strategy aren't limited to triple-digit increases across paid digital advertising channels. Conversions via the university's critical organic search, direct and referral channels have also increased by 29 percent, thanks largely to the dramatic increase in visibility across paid search, social and display, coupled with the development of relevant career content targeted at a wide variety of both modeled and interest targets. Northwestern has now engaged SeQuel on a separate SEO project to further enhance these impressive results.
Pre-admission Events
In response to the massive increase in interest generated by SeQuel's digital advertising campaign, Northwestern's admissions staff asked the agency to assist them in promoting their pre-admission events, a critical conversion stage in the enrollment funnel. With SeQuel's help, attendance at these events has risen steadily, with overall attendance at a major spring event increasing by 85 percent year over year, including a 100-percent increase in attendance among prospects interested in Northwestern's chiropractic degree, the university's highest-revenue program.
Success Spurs Further Engagement with SeQuel
With spring and summer enrollments exceeding campaign goals, the university is building on this momentum and expanding its relationship with SeQuel Response. SeQuel conducted a comprehensive SEO audit of the university's website, uncovering multiple opportunities for improving organic search rankings for strategic keywords. SeQuel is now working with the university's information technology team to implement these recommendations. Northwestern Health also operates integrative health clinics in multiple locations in the Twin Cities and has tapped SeQuel to help them boost patient volume at their campus clinic in Bloomington.
"The team at Northwestern is just outstanding to work with," said Chris Hofmann, VP of Digital Services at SeQuel Response. "The admissions staff knows that every lead is a valuable opportunity, and they are systematic about advancing each one through the various stages of the enrollment funnel."
"The conversations we've had with the people at SeQuel have been very different from those with our prior agency. SeQuel's team is very strategic, and they've been extremely responsive to the questions we've had. When SeQuel began managing our digital lead-generation campaign, we felt the impact almost immediately. They delivered on their promise to deliver a higher volume of qualified inquiries at a dramatically lower cost, and we're connecting with these prospective students at a much higher rate, which has eliminated our need to purchase non-branded leads from a lead aggregator. Thanks to SeQuel, we have more demonstrated interest in our institution than ever before."
—Erin, Director of Admissions
Looking for a faster way to grow your business?