SG360° wins SeQuel's 2018 David Forster Vendor of the Year Award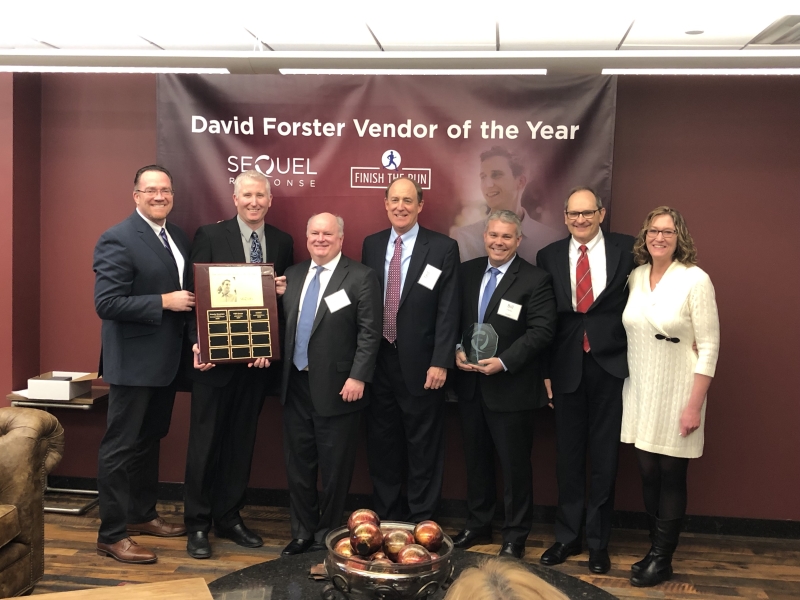 The color demands and paper stock expectations were at an all-time high. Without hesitation, our trusted print vendor, SG360°, invited the client on site for a day of print tests, leading a hands-on exercise in finding the right answer. Without such support and flexibility, we wouldn't have been able to meet the client's needs with such success. It's instances like this that led us to grant SeQuel's third-annual David Forster Vendor of the Year Award to SG360°.
As a valuable SeQuel supplier for the past three years, SG360° was actually a finalist for the award last year.
"This year, they took the next step in elevating themselves to be an extended partner to SeQuel," said SeQuel's Director of Purchasing, Jason Smith. "The supportive culture that they allow us to lean on is second to none. We couldn't be the company we are without them."
The award is named for David Forster, who worked with his mother, Sandy, at Little Pepper Promotions, which supplies SeQuel's branded clothing and gifts. In June 2016, David passed away unexpectedly at age 27 while training for a marathon. Doctors later discovered that David had myocarditis, an inflammation of the heart that was likely caused by an unknown virus.
SeQuel awards a vendor partner each year in David's honor. The winner is selected from SeQuel's roundup of over 160 vendor partners, highlighting the one that best displays concerted effort, integrity, proactivity, creativity and unselfishness.
"We are pleased to formally honor the memory of David Forster, who himself demonstrated all the qualities we look for in an exceptional partner - to such an extent that he inspired the launching of this meaningful award," explained SeQuel Co-Founder and CEO Jay Carroll.
Ted Gaillard, Executive Vice President of Sales at SG360°, spoke about how honored his team was to accept such a distinct award.
"Any time you get recognition, it's special," he said. "But [connecting] it to David's memory meant that much more to us."
Over the years, SeQuel and SG360° have become true partners in success. While SeQuel relies on SG360° to fully realize client needs, SG360° knows that meeting SeQuel's specifications means that, by extension, they're fulfilling the end client's requirements. As such, SG360° plays an essential role in SeQuel's ability to find and implement winning combinations.
"The word 'partnership' is thrown around loosely in this industry," Gaillard said. "But it's always a true win-win for both organizations. We're not hesitant to support what has turned out to be a truly collaborative relationship."
Smith admitted that some of SeQuel's demands can be quite strenuous but praised SG360° for never blinking an eye at any of them. Whether it be condensed schedules, limited budgets or clients with tough demands on color and stock quality, SG360° was able to perform.
"Their ability to turn out work flawlessly month after month was second to none," Smith said.
As part of the annual award, SeQuel makes a donation in David's name to a charity of the Forster family's choosing. This year, the gift will go to The Basilica of St. Mary's Shoe Ministry to fund donations to Minneapolis residents in need.
"The David Forster Vendor of the Year Award is one of the most important recognitions we give out each year. We relish this chance to celebrate the supplier that has delivered on an elite level over the last 12 months," said Carroll. "The folks at SG360° had plenty of competition with our numerous other faithful partners, but they consistently served us beyond the norm and acted like a true extension of our agency."
Through their partnership, both SeQuel and SG360° will continue to grow as independent companies vested in each other's success. For now, celebrations are in order.
"To be part of the legacy of this award certainly means a lot to SG360°," said Gaillard.
To learn more about how you can support The Basilica of St. Mary's Shoe Ministry, click here.