Wunderman Thompson Data Named SeQuel's 2020 David Forster Vendor of the Year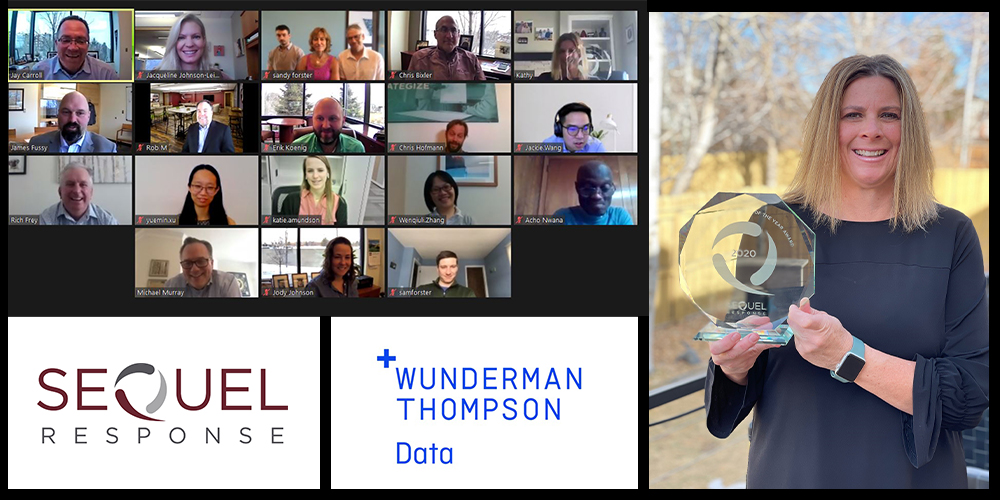 Wunderman Thompson Data has been named SeQuel Response's fifth-annual David Forster Vendor of the Year, honoring the data partner's display of concerted effort, integrity, proactivity, creativity, and unselfishness. The award was presented to Wunderman Thompson Data representatives during a virtual ceremony held on January 28. This is the second time Wunderman Thompson Data has received this recognition from SeQuel, originally honored in 2017.
"Kathy and her team at Wunderman Thompson Data are top-notch partners and have really set the bar for extraordinary service," explained James Fussy, VP of Data & Analytics. "Every request is treated with the same respect, sense of urgency, and hustle, and they are always willing to put in the extra time to help our clients achieve their goals. We thank them for their many years of outstanding partnership, and we are proud to honor them for the second time with this meaningful award."
The award is named for David Forster, who worked with his mother, Sandy, at Little Pepper Promotions — SeQuel's branded clothing and gifts supplier. In June 2016, David passed away unexpectedly at age 27 while training for a marathon. Doctors later discovered that David had myocarditis, an inflammation of the heart that was likely caused by an unknown virus. In David's honor, SeQuel recognizes an outstanding vendor partner each year.
"Wunderman Thompson Data has consistently helped us discover and create new data variables and models, advance our merge/purge process, and enhance our analytics and reporting details," shared Jay Carroll, SeQuel Response Co-Founder & CEO. "They are truly invested in the success of our client's programs, and they actively cultivate unique ideas and operate with an unsurpassed sense of urgency. The Wunderman Thompson Data team exemplifies all of the qualities of our Vendor of the Year, and then some."
Kathy Huettl, VP, Client Services at Wunderman Thompson Data, accepted the award on the company's behalf, "Our team is thrilled to receive SeQuel's 'Forster Vendor of the Year Award.' We value our partnership with SeQuel immensely and we are proud of the work we are able to jointly deliver on behalf of clients to contribute to their continued success."
As part of the annual award, SeQuel donates in David Forster's name to a charity of the Forster family's choosing. Wunderman Thompson Data also donated to the cause. This year, the gift will go to the Donald McNeely Center for Entrepreneurship's scholarship fund at the College of Saint Benedict and Saint John's University.
"Choosing this annual recipient is an opportunity for our employees to pause and celebrate our tremendous vendor base and the integral services they provide to SeQuel and its clients," said Carroll. "Recognizing a well deserving vendor like Wunderman Thompson Data with an award that pays tribute to David Forster and his exceptional character is one of the most meaningful things we will do this year."