FaQtor Test™:

Smarter testing, faster growth

You need results. And you need them fast. The problem with traditional testing methods is they're too expensive and/or too slow. Our proven testing methodology delivers data-driven performance projections to quickly and cost-effectively identify the winning combinations that will help you grow faster. Here's how we do it:
Fractional factorial design -
Our FaQtor Test combines the best of A/B and multivariate testing with none of their downsides to give you fast results for less.
Strategic matrix -
We structure every FaQtor Test by strategically choosing the best creative/offer/list combinations to test at sample volumes based on your market and your budget.
Analyze and predict -
Our analysts extrapolate the relative impact of each variable to accurately predict how every possible combination would fare against the control.
The result? In a fraction of the time and for a fraction of the cost you get accurate results that will guide your next campaign and help you acquire more customers.
Unlocking your best
(and biggest)

audiences with data

In short, your campaign lives and dies by the data that drives it. And the margin for error is thin. At SeQuel, we rely on data science and preach the need for real-world competition. With a strategic selection of client data, we build predictive models based on several data sets, and we do so with several data partners. The result is a symphony of unique models and lists that drives optimization and scale.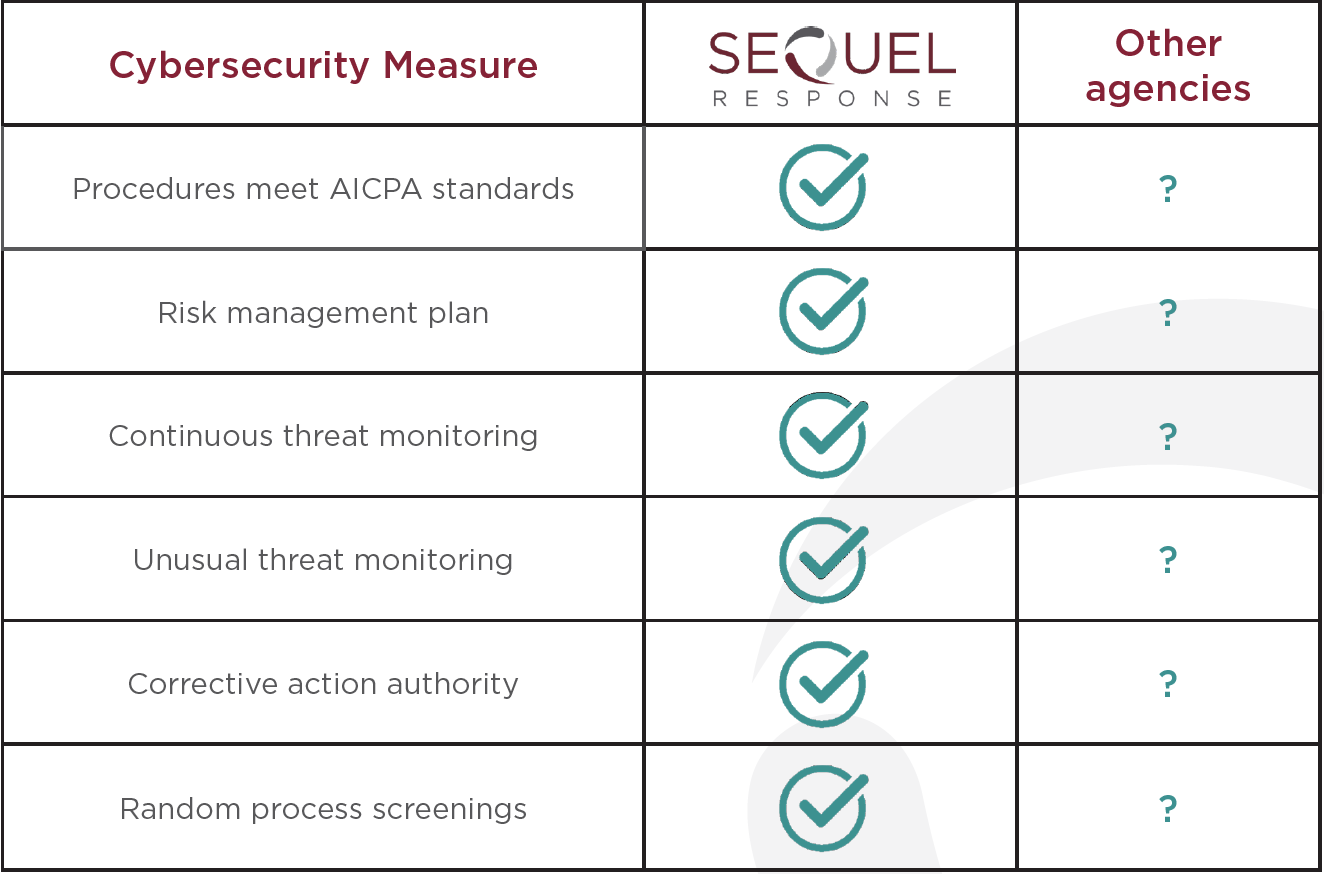 Your
data is safe

with SeQuel

We understand data privacy and customer file confidentiality is a top priority for your business, it is for us, too. After an extensive third-party audit, SeQuel's data-security processes and procedures were awarded industry-leading AICPA SOC2 Type II certification. Conducted annually, this certification ensures the security of our customer and consumer data controls, as well as the security practices of our third-party vendors.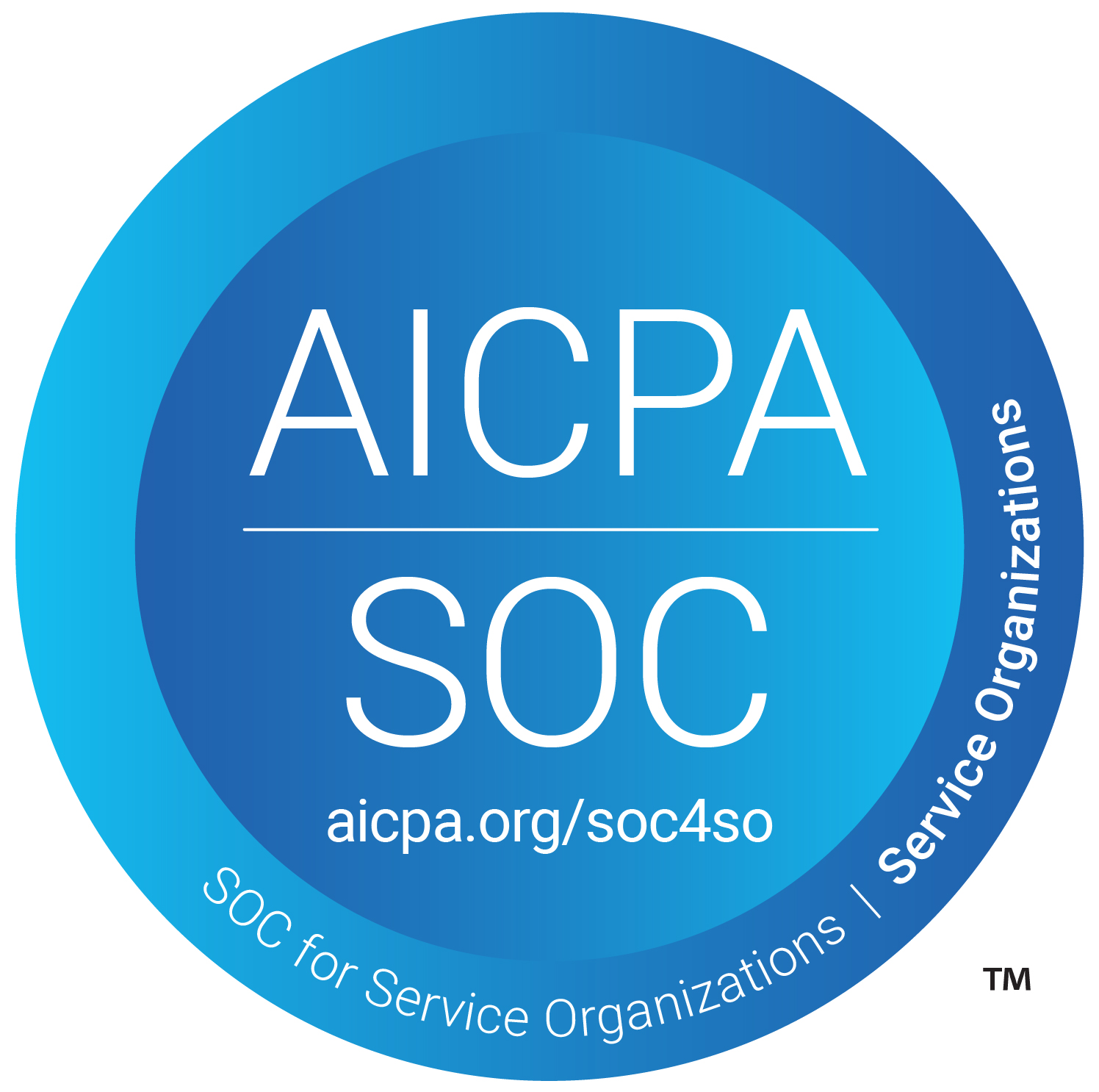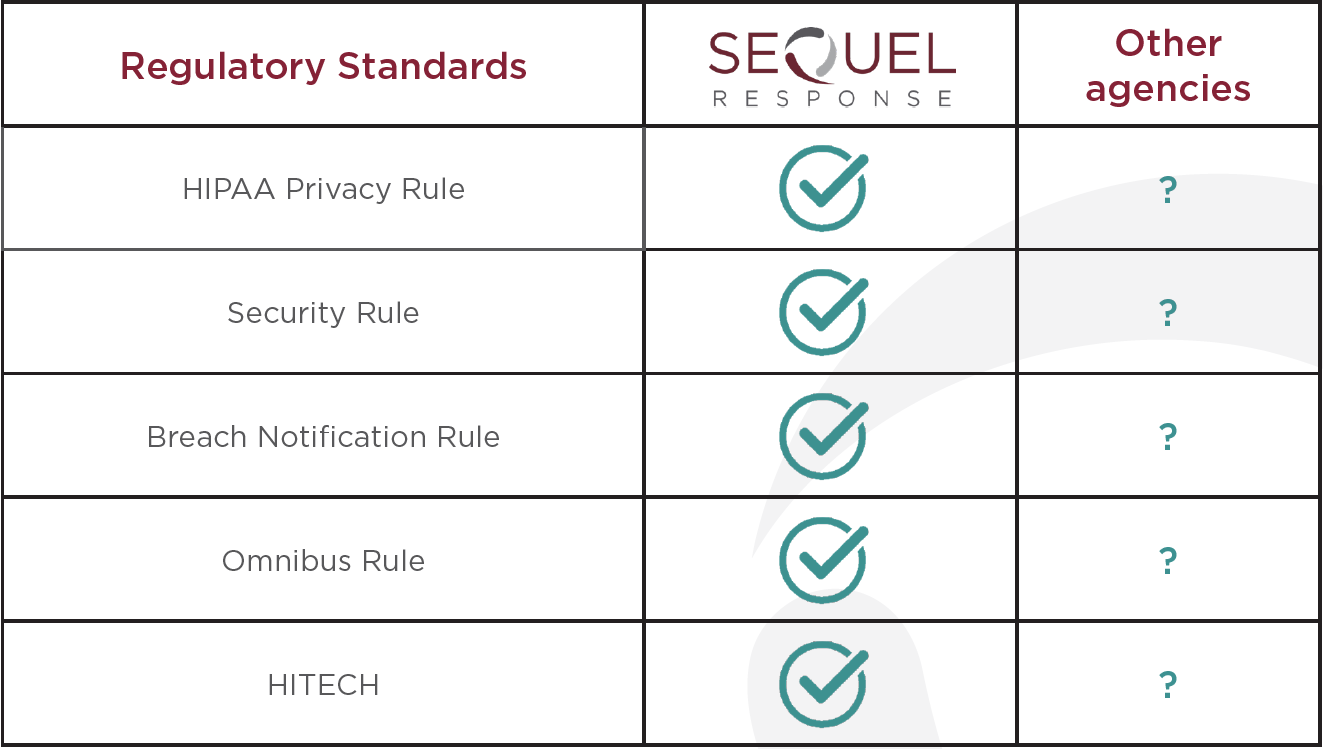 SeQuel's
HIPAA Seal of Compliance
In addition to our SOC2 Type II certification, SeQuel Response has proudly earned the official HIPAA Seal of Compliance and is able to deliver direct marketing services to HIPAA regulated organizations in accordance with the HIPAA requirements governing the security, privacy and integrity of PHI data. Issued by The Compliancy Group, the HIPAA Seal of Compliance is the health care industry's third-party HIPAA verification. The Compliancy Group has validated SeQuel's good faith efforts to achieve compliance using their proprietary tracking solution, The Guard.
The
proof

is in the results

One thing is consistent about every client we work with: they all achieve fast growth that exceeds their expectations. By constantly discovering new ways to make campaigns more profitable, we help our clients add to their bottom line and scale at the right pace for their organization.
Are you ready to
accelerate your growth

? Contact us today to see how we can

shatter your expectations.
Mail & digital,
together

at last
If you're debating between direct mail and digital marketing, you're thinking about it the wrong way. You need to reach your prospects with the right media, at the right time, and with the right message. Choosing one touchpoint puts you at an immediate disadvantage. And while getting your direct mail and digital campaigns to work together might seem like a challenge, the answer is integrated campaigns that deliver exponential growth.
As one of the only agencies with extensive direct mail and digital expertise under one roof, we know how to bring your offline and online campaigns together for better customer acquisition. With SeQuel Surround™, we connect your direct mail campaigns to the right digital channels to ensure you stay in front of your potential customers. By delivering a strategic sequence of messages through mail, display, native, video, CTV, OTT, audio, and other tactics, we push those potential customers to action. If you're already investing in search and social campaigns, our digital advertising experts can provide a free audit to help improve your ROI.