Boost Enrollment Campaigns

with an Integrated Marketing Approach

Our integrated approach to direct mail is designed to help universities increase enrollment. Our team of marketing strategists, data analysts, and creatives can help you create a customized strategy that leverages your target audience's needs and interests for maximum results.
Reach More Potential Students with Direct Mail
We use advanced predictive analytics to identify actual prospective students who are likely to be interested in your program. At SeQuel Response, we have the capability to integrate direct mail into your digital marketing efforts. From automated postcard campaigns to the integration of direct mail and digital ads, our approach is designed to maximize your recruitment efforts and reach more students on the right channel at the right time.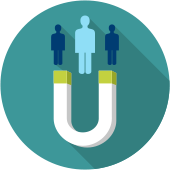 Drive Enrollment with Data-Driven Direct Mail
Our data-driven direct mail campaigns help universities increase enrollment by increasing your campaign response rates and student engagement. We make sure our campaigns are fully customized to meet your specific objectives, whether you're looking to increase applications or enrollment yields.
Find the Right Students for Your School
Direct mail's advanced targeting capabilities allow you to target potential students based on their interests, location, or demographics. This ensures that your message is relevant and reaches the right people at the right time to protect your investment and reach your enrollment goals.
A Medium You Can Count On
Direct mail is a trusted and tangible medium that people hold directly in their hands. Unlike digital marketing channels, the physicality of direct mail allows you to tell your story on a medium that will make a connection with potential students. This personal touch is essential for building relationships and inspiring people to attend your university.
University optimizes paid search and digital channels to build awareness
A fully-accredited nonprofit teaching and research institution was looking to boost its enrollments, but its existing digital marketing agency was struggling to cost-effectively fill its enrollment pipeline with the necessary volume of prospective students. To supplement the shortage of leads, the university had been forced to purchase leads from third-party aggregators, which came with high costs and low downstream conversion rates.
Direct Mail Marketing for
Colleges, Universities, and Schools
If you're looking for a more effective way to increase enrollment at your university or brand awareness for your school, contact SeQuel Response today. We specialize in direct mail campaigns that get results. Read our case studies above to learn more about what we can do for you.