Leading bank gets big lift from multichannel digital campaign
About the Client
East West Bancorp is a premier bank focused exclusively on the United States and Greater China markets with more than 130 locations worldwide. The company's wholly owned subsidiary, East West Bank, is one of the largest independent banks headquartered in California and has U.S. branch locations in California, Georgia, Massachusetts, Nevada, New York, Texas and Washington. The company is publicly owned and traded on the Nasdaq Global Select Market under the symbol "EWBC."
Client Objective
East West Bank sought to drive awareness of its business banking products and services amongst English-, Spanish- and Chinese-speaking small- and medium-sized business (SMB) owners through a multichannel advertising campaign in multiple U.S. markets. The media buy for the campaign consisted of television, print and digital with creative produced by East West's award-winning in-house creative team. SeQuel Response, the bank's digital agency of record, was tapped to develop and execute a digital media strategy that leveraged those creative assets to efficiently drive traffic and conversions on campaign-specific landing pages.
SeQuel Strategy
Armed with a set of television and banner ads featuring success stories of SMBs the bank has financed through its business banking solutions group, SeQuel set about creating a multichannel digital media strategy built on the Internet's most popular and powerful audience platforms, including Google, YouTube and Facebook. The strategy would lean heavily on the highly targeted and efficient video delivery capabilities of YouTube and Facebook. The SeQuel digital team synthesized a variety of targeting tactics designed to pinpoint SMB owners in the designated market areas (DMAs) relevant to East West Bank branch locations, including behavioral (in-market for business financial services), interests, company size, geographic and language segmentation.
Results
The 10-week digital campaign executed by SeQuel drove more than 9.1 million impressions, 29,000 clicks and 644,000 video views at an average $1.31 cost-per-click and $0.04 cost-per-view across Google Display, Facebook and YouTube, and double-digit year-over-year increases in sessions on business banking web pages. A summary of results by channel follows.
YouTube:

As the second-largest search engine globally, YouTube provides a powerful platform for efficient distribution of video ads. YouTube's TrueView video ad format is performance based, meaning an advertiser pays only when more than 30 seconds of an ad has been viewed (or the entire ad, if shorter than 30 seconds). Compared to traditional television campaign reporting, the YouTube ad platform provides extensive metrics including impressions, views, view rate, cost-per-view (CPV), earned views and video played to, which measures the percentage of viewers that watched a video to various points.
In addition to more than 400,000 views of the entire 30-second ad duration (a 36% view rate) at a CPV of $0.04, video overlays and links on the video ad units drove more than 2,800 clicks to campaign landing pages and ultimately more than 1,800 visits to East West Bank's business banking product and service pages. Even for videos not played to completion, video played to metrics for the campaign were very impressive:
25% of video played = 65% of impressions
50% of video played = 47% of impressions
75% of video played = 41% of impressions
This means East West Bank received substantial brand impressions and views of its content that came with no cost because the view length was less than 30 seconds.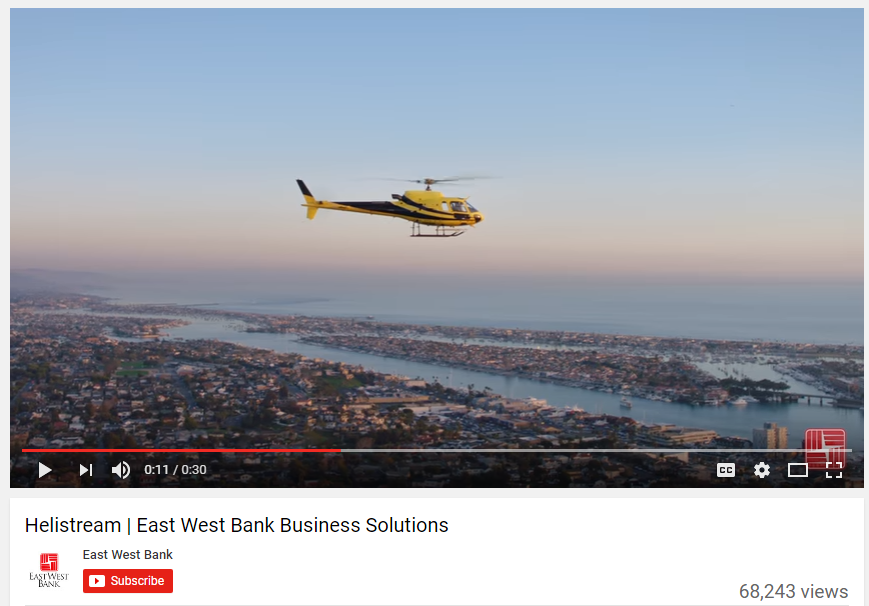 Facebook:

With arguably the industry's deepest and most accurate targeting capabilities coupled with a formidable array of impactful ad units, including native video, Facebook was a must-have in the East West Bank digital media plan. SeQuel created several highly targeted segments in Facebook Ad Manager, crossing multiple demographic, interest and behavioral categories with geographic selects relevant to the bank's branch locations to create custom segments targeting SMB users, then uploaded East West's 30-second TV spots to Facebook to create newsfeed video ads for the campaign. With an objective of video views, the campaign had 218,000 video views of more than 3 seconds, 99,000+ viewing 25%, 54,000+ viewing 50% and more than 32,000 viewing 100% of the bank's 30-second ads. While not a primary campaign objective, the video campaign drove more than 2,500 clicks to the East West Bank website.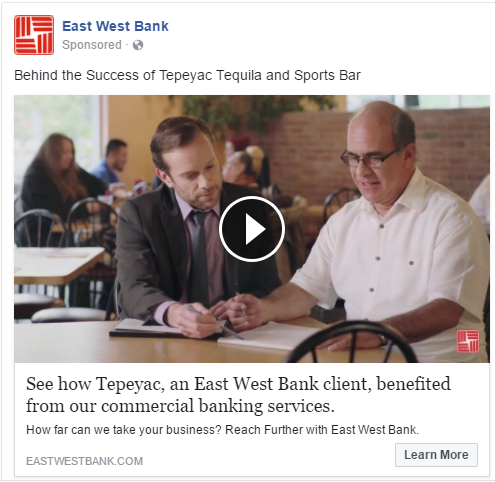 Google Display Network:

Google's Display Network (GDN) provides deep targeting, reporting and flexible bidding options for performance-minded marketers, reaching approximately 92% of Internet users. SeQuel leveraged Google's in-market segments for business banking services, geo-targeting and language-targeting (English, Spanish and Chinese) overlaid with a whitelist of brand-safe sites to generate more than 24,000 high-quality clicks to East West Bank landing pages. CTR was 0.35%, seven times the industry benchmark of 0.05%, at below benchmark of $0.66 cost-per-click. Cost-per-conversion for the display campaign, measured as click-throughs from the campaign landing pages to other business banking service pages on the site, came in at an attractive $19 cost-per-action.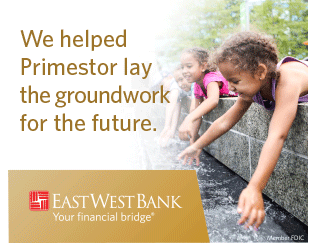 Web Metrics
Overall, the campaign helped drive a 20% year-over-year increase in unique page views and an 80% increase in page entrances to the business banking pages of the East West site, with a time-on-site increase of 14%.
"SeQuel's digital media strategy for our business banking solutions campaign provided a measurable lift for our branding goals. I know I can always count on SeQuel for excellent strategy, execution and results."

—Julia Chen, Vice President, Campaign and Media Manager, East West Bank