Wiland, Inc. Named SeQuel's 2022 David Forster Vendor of the Year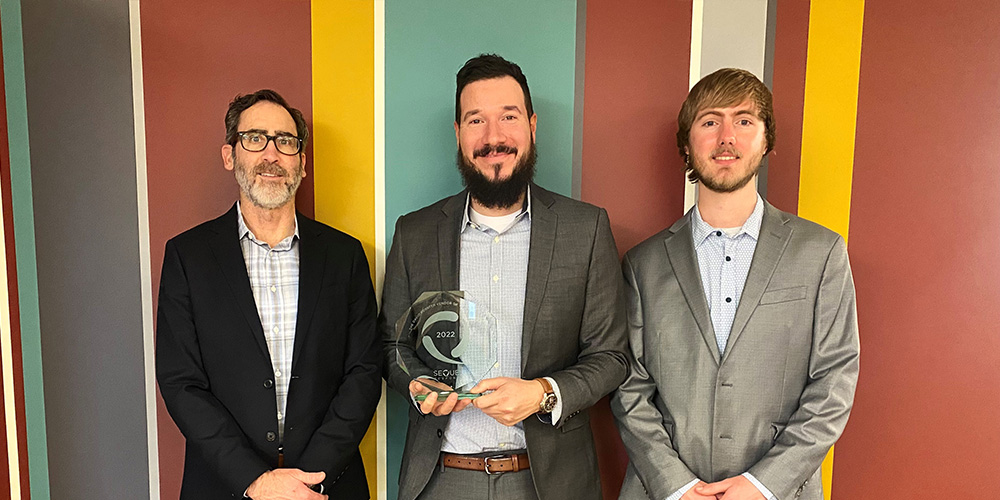 Wiland, Inc. has been named SeQuel Response's seventh-annual David Forster Vendor of the Year, honoring the data partner's display of concerted effort, integrity, proactivity, creativity, and unselfishness. The award was presented to Wiland representatives during a luncheon ceremony on February 16th. This is the first time Wiland has received this recognition from SeQuel.
"Wiland has always been a great business partner, and in 2022, they went above and beyond on numerous occasions," said James Fussy, SeQuel's VP of Data & Analytics. "Speed and integrity are everything in the data world, and our team at Wiland proactively sprints. This past year, they demonstrated their creativity and commitment to our business and client success as we worked to expand algorithms. Unselfishly, Wiland's team partnered with us to test offline data in digital environments and educate our team on co-operative databases and consumer data privacy. They have truly embodied everything the David Forster Vendor of the Year award stands for as an extraordinary partner."
The award is named for David Forster, who worked with his mother, Sandy, at Little Pepper Promotions – SeQuel's branded clothing and gifts supplier. In June 2016, David passed away unexpectedly at the age of 27 while training for a marathon. Doctors later discovered that David had myocarditis, an inflammation of the heart that was likely caused by an unknown virus. In David's honor, SeQuel recognizes an outstanding vendor partner each year who demonstrates David's most admirable qualities.
"You can tell that the Wiland team genuinely cares about the success of SeQuel, and they do whatever they can to help us win," said Katie Amundson, SeQuel's Director of Data Acquisition. "It's not just the big things that make them our vendor of the year, it's all the little things too. Quick replies to our sprint job requests and fast model runs can make or break a campaign, and they always make it happen. Their entrepreneurial spirit, creativity, and customized approaches provide us with better solutions for our clients while adding substantial value. We appreciate all the hard work and effort they put into our jobs, and we look forward to an even better partnership in 2023."
"On behalf of our team and everyone at Wiland, we would like to thank SeQuel Response and the Forster family for honoring us with this award," said Ryan Jones, Wiland's Vice President of Client Success. "When you partner with another company that values honesty and integrity, only good things can come from that. We operate under the concept that if our partners succeed, we succeed. We're looking forward to succeeding together for many years into the future."
As part of the annual award, SeQuel donates in David Forster's name to a charity of the Forster family's choosing. Wiland has generously matched the donation. This year, the gift will go to the Donald McNeely Center for Entrepreneurship's scholarship fund at the College of Saint Benedict and Saint John's University.
"Choosing this annual award recipient is one of the most meaningful things we will do this year. It's an opportunity for our employees to pause and celebrate the integral services our vendor base provides to SeQuel and our clients in honor of David Forster's exceptional character," said Erik Koenig, SeQuel's President. "We're grateful for a partner like Wiland that's willing to go the extra mile and is truly invested in the success of others."