Direct Mail's Piece in the Multichannel, Omnichannel, Optichannel Puzzle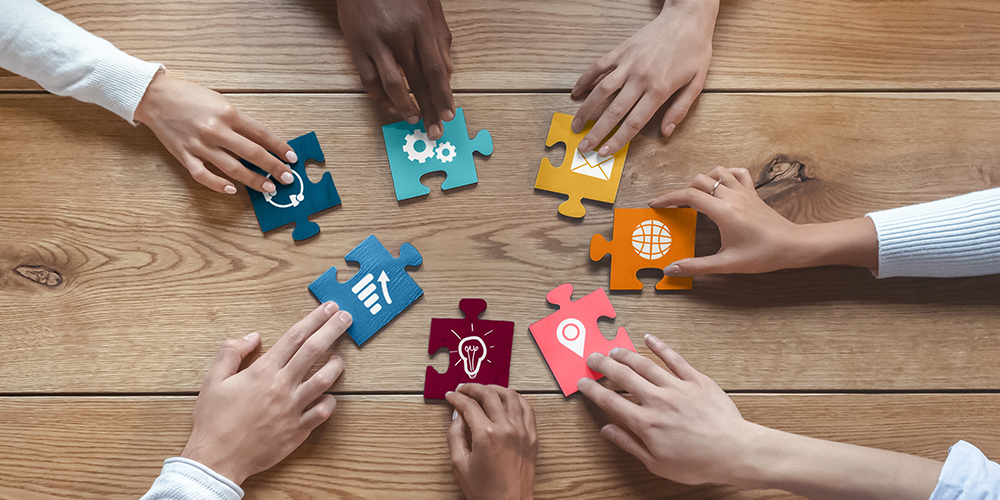 Since multichannel, omnichannel and optichannel are referenced so often within marketing strategy discussions, it is understandable they may be mistakenly perceived as interchangeable. Other than an attempt to reach customers across multiple platforms, all three strategies follow an inherently different approach.
Here's a review of the three popular marketing strategies — and direct mail's critical piece in each one — to help brands assemble a high performing cross-channel strategy from today's ever-evolving media puzzle.
Multichannel marketing
Multichannel marketing refers to utilizing multiple channels and platforms (i.e. online, offline, in-person, etc.) to reach customers and prospects. This strategy emerged from the rapid growth of digital media to ensure brands were present on every channel a consumer might engage with throughout the buyer journey. In multichannel marketing, each channel has its own goals and strategy.
Direct mail's role in multichannel strategy
Direct mail is often thought of as a top of funnel strategy given it can play a key role in brand awareness, especially when you consider the cognitive science behind direct mail's effectiveness. Once a prospect receives a mail piece, they are more likely to recognize and interact with your brand and messaging in other channels. However, direct mail isn't really about impressions, it's a purebred direct response tactic, able to predictably drive a significant quantity of profitable conversions. Direct mail is also a great tool to stay engaged with your CRM audience. Send a personalized piece to share special offers with current customers, re-engage with past customers, or connect with social media or email subscribers who are not yet customers.
Omnichannel marketing
In omnichannel marketing, marketers still use multiple channels to connect with consumers, but rather than an individual strategy for each channel, the strategy is integrated among all channels for a cohesive and consistent experience. This strategy focuses on providing a seamless customer journey with personalized content as consumers engage with brands between channels and platforms. One example of omnichannel in action is eliminating repetitive form fills if a customer begins the purchase process in one channel and completes checkout in another. Due to the complexities of managing and implementing unified messaging and creative, and allocating attribution across all marketing channels, less than 10% of marketers have successfully connected the majority of their channels.
Direct mail's role in omnichannel strategy
Integrated direct mail and digital strategies are proven to increase response rates, strengthen brand loyalty, and reduce CACs.  Not only does direct mail data include consumer variables such as demographic and psychographic information, it also includes valuable information regarding purchase behaviors and product preferences. This type of data is used during audience segmenting and predictive modeling to improve targeting and ensure messaging is relevant to the audience, whether it's used for customer acquisition or win-back programs. In addition, direct mail is unique from other direct response channels because it begins with a definitive list of people and a physical address, naturally laying a solid infrastructure for matchback attribution. Partnering with a reputable direct mail agency will ensure the program messaging, creative and strategy is cohesive and coordinated throughout offline and online channels.
The USPS has also enhanced its capabilities to support omnichannel campaigns with their Informed Delivery program. This free service provides participants with a daily digital preview of their incoming mail via their inbox. Marketers can customize the interactive digital elements in the email message with a unique offer and target URL (clickable CTA) to connect the recipient directly to a campaign landing page.
Optichannel marketing
Some marketers have labeled optichannel (optimal channel) marketing as the next phase in the progression of multichannel marketing. Brands who adopt this strategy focus on the most effective channels in their marketing mix, optimizing those channels to work together to create a purposeful customer experience that maximizes return on marketing investment. Successfully employing this strategy requires a holistic review of customer data including channel preference and expectations, and the performance metrics related to those channels (LTV and ROI).
Direct mail's role in optichannel marketing
As the original direct marketing channel, direct mail is well positioned to serve as the foundation in an optichannel strategy. According to the latest data from the Association of National Advertisers (ANA), direct mail's response rates are three times higher than all digital channels combined. When you pair the collective advantages laid out earlier in this article with the reality that consumers expect direct mail to be a part of their ideal communication mix, its ability to convert is not surprising.
Direct mail also offers brands the ability to scale both offline and online customer acquisition. With a dynamic testing approach and predictive modeling technique, you can continuously expand your reach with new variables, new data sources and new purchase propensity algorithms. These evolving model files can be activated across online channels (social, display, email, streaming, etc.) for a synchronized and targeted campaign.
Regardless of the preferred marketing strategy, direct mail's versatility, accuracy and influence is a valued piece in any multichannel, omnichannel or optichannel program. Including direct mail in your marketing mix will ensure your brand reaches your ideal audience and nurtures your prospects through the buyer journey, ultimately elevating your brand to the next level.
Featured in BRAND United on 10.2020.