SG360° named SeQuel's 2019 "David Forster Vendor of the Year"
SG360° has been named SeQuel Response's fourth-annual David Forster Vendor of the Year, honoring the printing partner's display of concerted effort, integrity, proactivity, creativity and unselfishness. The award was presented to SG360° representatives during a luncheon held on December 12, 2019 at the SeQuel headquarters in Eden Prairie, Minn. This is the second consecutive year SG360° has received this recognition.
"SG360° has gone above and beyond for the success of SeQuel and our clients," said Paula Phipps, SeQuel's Vice President of Purchasing. "They are always transparent when a critical issue arises and ready with multiple solutions. The daily actions of SG360° clearly reflect SeQuel's values of transparency, success, partnership and responsiveness, as well as the qualifications of a David Forster award winner."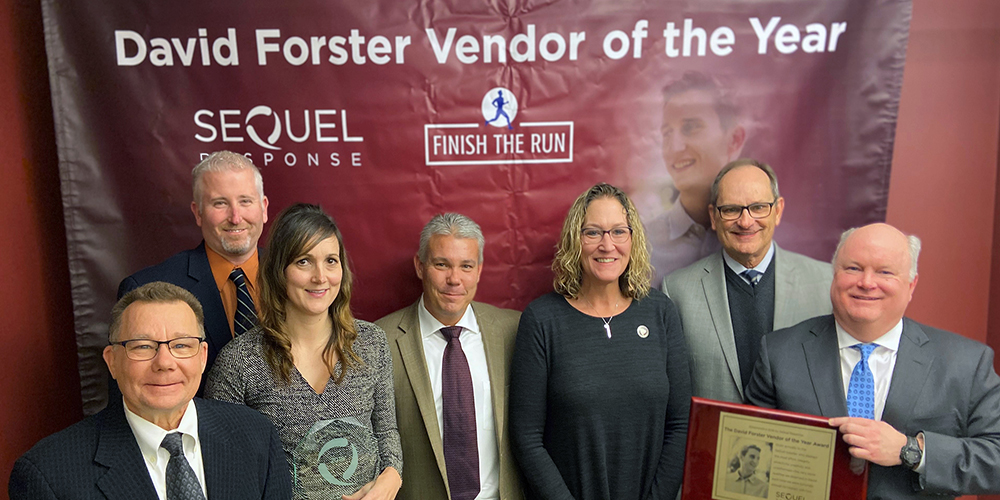 The award is named for David Forster, who worked with his mother, Sandy, at Little Pepper Promotions — SeQuel's branded clothing and gifts supplier. In June 2016, David passed away unexpectedly at age 27 while training for a marathon. Doctors later discovered that David had myocarditis, an inflammation of the heart that was likely caused by an unknown virus. In David's honor, SeQuel recognizes a vendor partner each year.
"As we were reviewing the award submissions this year, the assumption was that we were not going to give the award to SG360° two years in a row, although we do not have explicit guidelines that state this," shared Jay Carroll, SeQuel Response Co-Founder and CEO. "We looked very hard at our other great suppliers that had terrific submissions and did outstanding work for us in 2019. In the end, SG360° aligned best with the award criteria and prevailed once again."
For over 60 years, SG360° has combined best in class production and fulfillment to deliver quality print collateral to their customers. During the award presentation, SeQuel challenged SG360° to work towards a third win in 2020.
John Wallace, President and CEO of SG360°, accepted the award on the company's behalf. He explained the repeat of this award is a testament to the quality of both the SeQuel and SG360° teams, and the success of their working relationship.
"When I was here for last year's award ceremony, I had only been with SG360° for about two months," John Wallace said. "Over the past year, I've fallen in love with SeQuel. I like nothing better than to be a part of a team, and this is a good team. We are obviously twice as honored to win this award again and being recognized by one of our customers for such admirable qualities is a great thing." 
As part of the annual award, SeQuel makes a donation in David Forster's name to a charity of the Forster family's choosing. SG360° also donated to the cause. This year, the gift will go to the Donald McNeely Center for Entrepreneurship's scholarship fund at the College of Saint Benedict and Saint John's University.
"We don't stop often enough to celebrate and appreciate our fabulous vendor base of more than 80 suppliers," said Carroll.  "This is one of the most important days of the year for our company — to honor the memory and legacy of David Forster and to commend the exceptional performance of a well deserving vendor like SG360°.