How to ensure your direct mail campaign shines this holiday season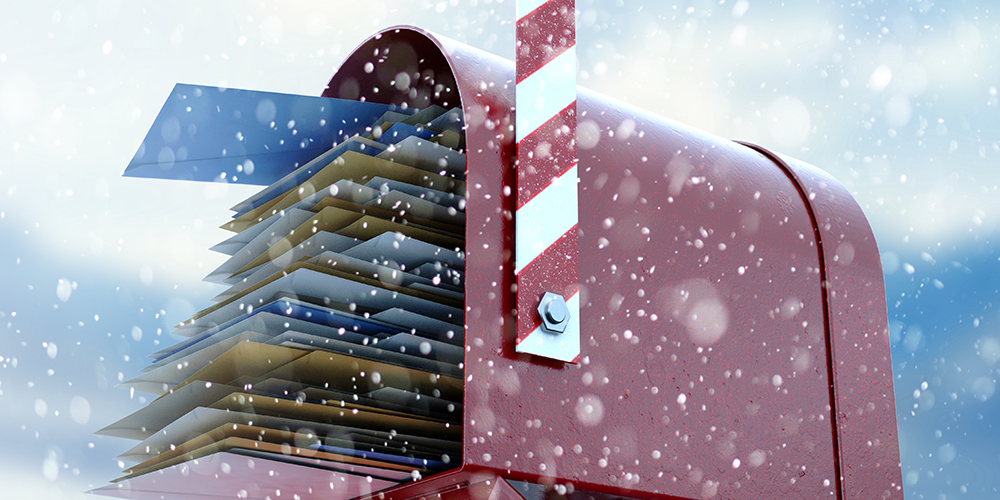 The holiday season is quickly approaching and with it, a flood of direct mail marketing campaigns.
Studies show that 41% of Americans enjoy getting their daily mail and 90% of it is actually opened. We also know that consumers' direct marketing engagement spikes during the holiday season. Print marketing already has a track record of being an effective channel, but the additional responsibility of crossing names off a gift list makes consumers even more receptive and responsive to the promotional offers filling their mailbox. Better yet, it's predicted that holiday spend will increase by as much as 10%-12% in 2019.
So, how do you ensure your direct mail campaign will shine this holiday season?
Embrace festive creative
Keep your customers in a jolly mindset with holiday themes and images that align with your product or service and enhance your offer. Play with package style, size, die cuts and texture, or add an interactive element like scratch-offs or unique folds. Use a clear and attractive offer or unique gift to help your piece stand out from the crowd.
Spoil your favorites
Repeat customers have a higher chance of purchasing if they have already had a great experience with your product or service. Celebrate the season of giving with an exclusive offer to your loyal customers. Consider referral, retention, cross-sell, up-sell, and win-back messages to re-engage with your house list as they are intently searching for gifts and deals.
Don't spend it all in one place
During the holiday season consumers are intentionally considering your advertisements, in both mail and digital formats. Complement your direct mail efforts with an integrated digital campaign. Telling a cohesive story in multiple channels strengthens brand recognition and increases conversions by offering repeated touch points and purchase opportunities.
Start early
Early shoppers spend 25% more than those who wait until the end of the season. Starting your holiday direct marketing campaigns early ensures you beat your competition to the mailbox and gives your prospects time to make a purchase decision. Year-round targeting, testing and reporting allows you to fully understand your audience and their purchasing behavior so you can build a holiday package that sells.  
Extend the holiday cheer
Just because the holidays are over doesn't mean consumers are finished shopping. Postponed celebrations, New Year's parties, late-gifting and self-gifting cater to post-season deals. Repeating your marketing message is a proven best practice, so don't shy away from a second or third campaign. Maybe your first offer was lost in the mailbox shuffle or they just need a merry reminder to spend their cash gift on the item they were secretly hoping to receive.
Shine On
The holiday season is a great time to up your direct marketing game. Incorporating festive creative, customer deals, integrated campaigns and thoughtful scheduling are just a few ways you can make the season extra bright for your prospects and customers – and your bottom line.
Ready to kick off your campaign? Contact us to learn how our experienced team and data driven approach can help you grow.