Direct Mail for Millennials and Gen Z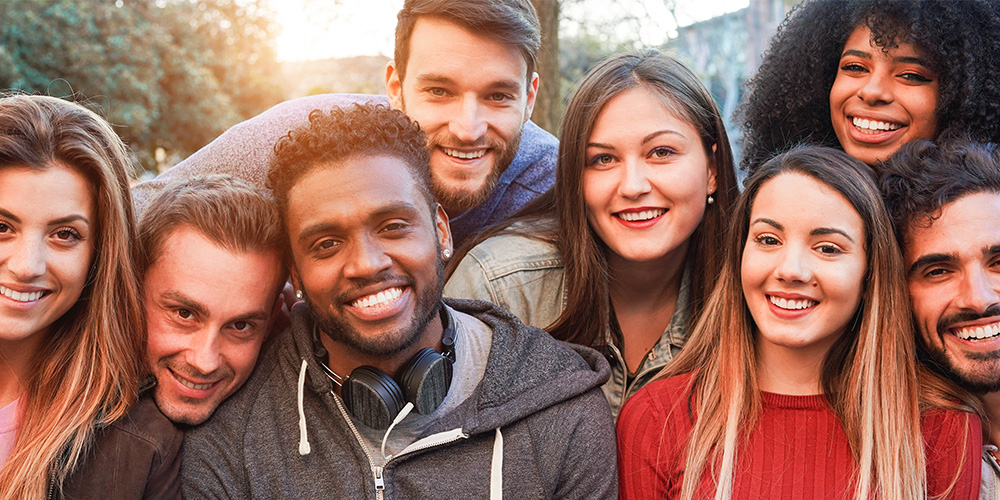 Millennials are currently the largest living generation. Generation Z is right on their heels. Together, these two groups make up over 42% of the US population and represent a buying power of roughly $740 billion (and climbing!). While it's true both generations are digital natives (often bouncing from 3-5 screens and networks at one time), it's also true that millennials and Gen Z love direct mail. Marketing research shows both age groups find traditional mail to be a refreshing break from always-on digital ads, a welcome form of nostalgia, and a more personal advertising experience.
If your brand's target audience includes these two top consumer groups, keep reading for key insights on each generation and tips on how to improve your direct mail campaigns to better resonate with millennials and Gen Z.
Direct mail and Millennials
Millennials are the largest consumer market. Currently, this generation represents the greatest percentage of the country's workforce and possesses the most purchasing power. Born between 1981 and 1996, millennials have lived through multiple recessions, war, and now a pandemic — events that have all shaped their perspective on the value of money — making them savvy and sensible buyers.
Millennials spend more time with physical ads than digital ads (USPS)
The majority of millennials love physical advertising including direct mail, in-store shopping, and simply the overall shopping experience. Since this generation is already the most likely to engage with your mail piece, consider how you can encourage an even longer interaction with unexpected design elements. USPS research shows millennials are the most likely consumer group to purchase from a direct mail advertisement, so make the path to purchase as easy as possible by incorporating digital technology. 
95% of millennials want brands to actively court them with personalized, promotional messages (Accenture)
Millennials understand the give and take of the consumer–brand relationship. They are willing to give away more personal data to get more value. Therefore, if a millennial consumer is already engaging with your brand — or you are working to acquire a millennial audience — the relevancy and timing of your message is important to catch and retain their attention. Millennials react to individualized experiences and messaging. Flatter this generation with personalized welcome and re-engagement direct mail advertisements. Use a mailer to recommend products based on purchase history, remind them to complete the purchase of items left in an abandoned shopping cart, or alert them when a favorite item is back-in-stock.
55% of millennials will ignore brands that don't show up in internet search results or have poor reviews (Google)
Millennial consumers will regularly conduct their own research online and spend hours comparing products and services, thoroughly reading testimonials and reviews before reaching into their wallets. With their razor-sharp screening process, it's not enough for your brand to have a digital presence; the message surrounding your brand is just as critical as the product itself. Overall aesthetics are very important to earning millennial trust. This generation is also more likely to trust strangers than branded advertisements. Your website and direct mail pieces must look polished and professional for this group to find your brand trustworthy. Consider leveraging relevant and authentic recommendations from peers that they can actually relate with rather than a celebrity endorsement. Then, make sure your digital channels are optimized with similar customer commentary to ease any hesitations.
Only 6.5% of millennials identify themselves as brand loyalists (SmarterHQ)
Millennials value their freedom to bounce from brand to brand to find the best product or service that meets their need. Earlier we shared the importance of consistent and relevant messaging to keep this group engaged, but it's also helpful to remember this generation loves the cool factor and hates missing out. To keep a millennial audience, you must push beyond traditional advertising to build and maintain the customer relationship. Focus your messaging on how you can help them look good, feel good, and enhance their lives. Since they prefer experiences over discounts, consider incorporating direct mail offers or rewards that entertain. Offer access to a special event, utilize innovative technology on your piece to give them a behind-the-scenes brand experience, invite them to join a unique community, or try donation matches to an organization or cause they can relate to (rather than traditional discounts).
Direct mail and Generation Z
Born between 1996 and 2012, the oldest Gen Zers are entering adulthood as they infiltrate the workforce and adopt mature purchasing habits. The younger trendsetters who aren't yet on their own still have a significant influence on family purchasing decisions, impacting spending by as much as 77%.  By 2034, Generation Z will be the country's largest cohort.
63% of Gen Z prefer real people in advertising vs. celebrities (Cassandra Report)
Influencer marketing is a popular targeting strategy for these younger consumers, but marketers beware. Just like millennials, Gen Z values direct mail testimonials from "real" people. In fact, nearly half of Gen Zers have never bought a product that was recommended by an influencer. This generation is also the most diverse and they prioritize brands who advertise with authentic and inclusive messaging. Therefore, a direct mail piece featuring genuine messaging, inclusive and unedited imagery, and social proof from everyday customers will be most effective with Gen Z audiences.  
44% of Gen Zers would submit ideas for products if given the opportunity (IBM/NRF)
Gen Z consumers value a two-way conversation with their favorite brands. Rather than focus on selling your product to this generation, focus on building a relationship and cultivating brand loyalty through meaningful direct mail interactions. Ignite their entrepreneurial spirits by enabling them to be a part of your brand's product development process. Use your direct mail offers to promote idea-sharing by asking them to test products or services before purchasing. Then send a follow-up piece requesting feedback about their experience. Gen Z is not shy about creating digital content on behalf of brands, so use the mail channel to thank them for sharing online reviews with a discount, or to invite them to try your newest products before anyone else.   
32% of Gen Z consumers have made a purchase using "buy now/pay later" options (Student Beans)
Alternate payment technology is an important conversion factor for this financially keen group. Generation Z consumers want the freedom to make purchases in the way that's most convenient for them. They regularly leverage mobile wallets and installment payments when available. If your brand offers payment flexibility, make sure it's a key focus of your direct mail messaging. Also consider how you can speed up the checkout process to make the overall brand experience more enjoyable. More than half of Gen Z uses their mobile device to make purchases, so leverage digital tech (like QR codes) on your mail piece to reduce conversion friction and optimize the mobile checkout process.
The average Gen Z attention span is 8 seconds or less (Fast Company)
You have eight seconds to get, and keep, the attention of Gen Z. Speedy to make a decision regarding your brand and its relevance, Gen Z consumers will not stick around for long-form content that's difficult to consume. Our best advice: give them something interactive to keep them engaged. You can make your direct mail piece interactive by incorporating video, gamification, social, mobile apps, and self-education elements into your copy and creative. These unique, short-form content elements allow this generation of shoppers to connect with your brand in unique ways. The USPS will even reward you for leveraging innovative and interactive elements on your mail pieces.
If you're a consumer brand marketer, chances are high you are including direct mail for millennials and Gen Z in your strategy. We hope the insights shared in this article will help you further leverage the mail channel to build a positive and engaging relationship with these key consumers. You can also find more tips for creating direct mail every generation will love to read at www.sequeldm.com.
Featured on BRAND United on 4.5.2022