Direct Mail in 2023: Three Ways to Get Started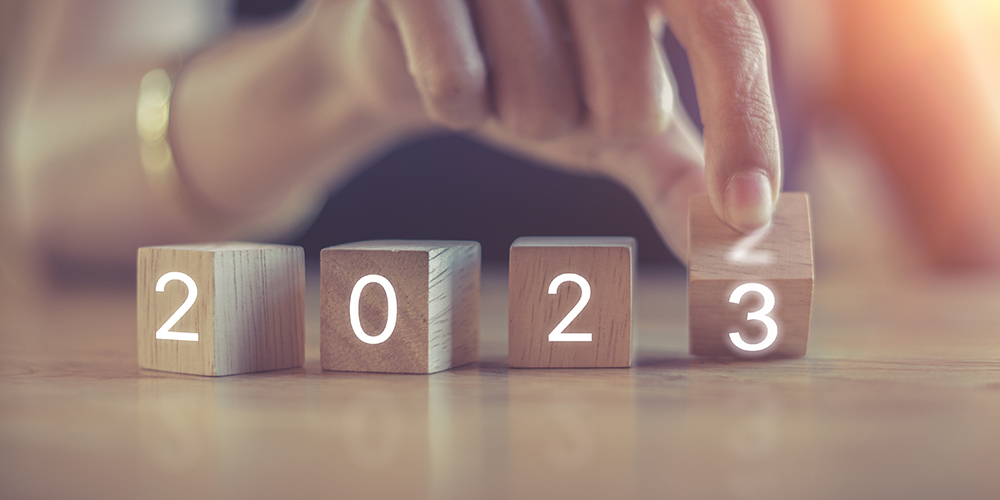 In 2022, 44% of marketers reported increasing their direct mail spending, and 42% said their budget allotment for the mail channel remained consistent. We expect budgets to continue to rise for direct mail in 2023 as marketers pursue growth and the competitive advantage.
While this past year delivered victories to marketing professionals across the globe, success did not come easy. Marketers have worked to overcome countless obstacles including digital burnout, data privacy expectations, and convincing modern consumers to convert. Knowing that many individuals are sensitive to the ads they see, campaigns must be more thoughtfully executed than ever. With social media and email marketing spend on the rise, consumers find themselves craving a deeper connection to their favorite brands. So, what is the secret to finding growth and profitability in the new year? You guessed it – direct mail.
With its personal and tangible experience, direct mail appeals to consumers because it allows them to engage with brands whenever and wherever they are most comfortable. According to the United States Postal Service, 88% of millennials regularly read their mail, and 40% regularly purchase items featured in mail advertisements. Direct mail marketing is the most effective way to reach prospects, and it is simple to integrate with digital platforms.
Unsure of where to begin? Here are three ways to get started with direct mail in 2023.
Shared Mail
Due to the affordable pricing of shared mail, young brands wishing to jump into the direct mail channel may start here. Also known as group mailers, coupon mailers, or marriage mail, a shared mailer includes several advertisements bundled into one mail package. Each advertiser splits the cost of postage to reduce the overall investment, making this an affordable alternative to solo mail. The creative options can be limited and the mailing schedule is defined, rather than flexible.
Consumers can be targeted by geographic location, individual neighborhood demographics, or even unified to a demographic group or target profile. While the custom targeting limitations of shared mail may curb response rates, this type of targeting works great for brands looking to reach a broad or localized audience. For CMOs who are not quite back to pre-pandemic levels in terms of marketing spend, testing shared direct mail in 2023 may be an appealing offer.
Solo Mail
If your brand is looking for scalable growth, consider testing solo direct mail in 2023. With a solo strategy, you have the power to create a memorable customer experience through a stand-alone direct mail piece. The most noteworthy benefit of a solo mail strategy is the audience targeting capabilities. Flexible mailing schedules and creative control give you the ability to personalize your messaging elements — a great way to show your audience that they are individuals, rather than a number.
Used commonly by DTC subscription services, warranties, insurance, and e-commerce brands, sending a solo piece increases your chances of conversion. With solo direct mail in 2023, you can target your ideal prospects using individual consumer insights and modeling data, like digital targeting. Comprehensive testing capabilities improve your campaign performance by quickly determining the ideal combination of list, offer, and creative. While this is the costliest type of direct mail, it is highly effective and produces a notable ROI.
Automated Mail
If you are interested in sending mailers to your existing audience quickly, automated mail is a great option. You can send a piece of mail in minutes rather than weeks, and there are no scheduling or volume restrictions. Many brands want to try out direct mail by sending a mailer to a small audience. The process is streamlined and considerably less of a guessing game with direct mail automation. Other marketers utilize automated direct mail as a trigger piece to advance leads through the sales funnel and boost engagement. If you send out multiple mail pieces to your leads each month, automation is a wonderful solution, especially if your creative strategy is consistent.
Automated direct mail can be launched with a variety of online platforms that allow you to create, print, mail, and track your direct mail campaign performance. There are plenty of ways to get creative, including easily generated QR codes and countless personalization options. This strategy can also be integrated with your CRM and tech stack to reach your target audience during critical decision making timeframes.
The best approach to direct mail in 2023 = a strategic mix
You may be wondering, "what if I can't just pick one strategy?" Fortunately, you don't have to! If your marketing budget allows, combining all three direct mail approaches – solo, shared, and automated – really is best. As your objectives change, you can switch or integrate strategies. If you are interested in prospecting, try solo mail. Then, take advantage of shared mail if you want to cut back on spend. When you are ready to conduct retargeting or focus on retention, leverage direct mail automation.
As reported by the USPS, marketers saw their ROI increase by 60% when combining direct mail with digital channels. Integration of online and offline direct response channels is a necessary ingredient for a successful strategy in 2023, and all three approaches can be integrated with digital marketing. Multichannel and omnichannel marketing strategies have definite advantages, such as improved overall performance and lower CPAs. Hence, nine out of 10 mailers now incorporate digital marketing channels into their direct mail strategy or have plans to in the future. Don't wait – make 2023 the year you integrate and watch marketing campaigns shine.
The point is, there is no rule book that says you must adhere to a particular direct mail marketing tactic. Determine what is best for your brand after finalizing your budget and growth goals. With the new year right around the corner, it's critical to start considering the best course of action for a successful direct mail program in 2023.
Featured on Brand United on 12.6.2022