How to Personalize Direct Mail for Response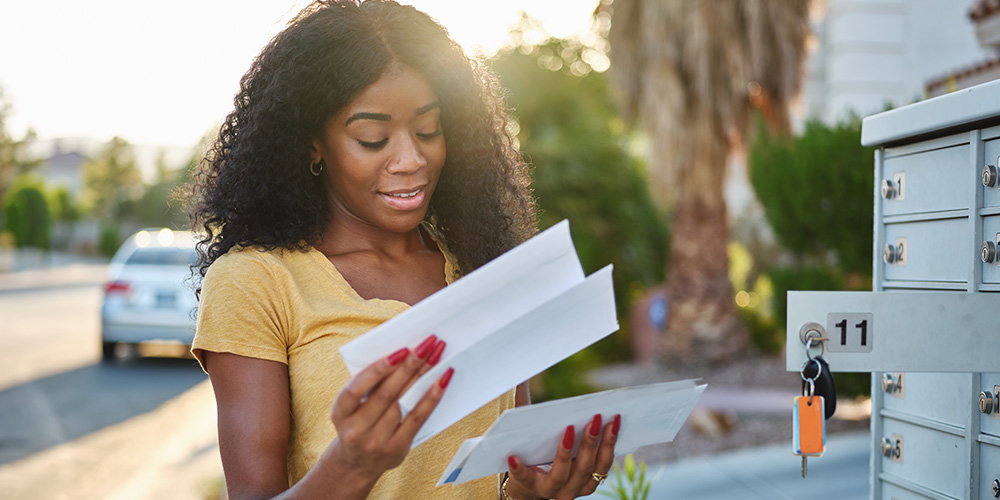 In today's competitive marketplace and unclear economy, grabbing a consumer's attention and then convincing them to open their wallets takes a meaningful touch. Understanding how to personalize direct mail can be the edge your brand needs to influence action.
In recent years, personalized advertising has developed into an effective and expected practice for consumers. Infosys reports 86% of consumers say personalized advertising impacts buying decisions, and 31% want their shopping experience to be more personalized than it already is. Additionally, a Segment study showed 60% of consumers are more likely to become a repeat buyer after a personalized experience, where as 45% of consumers will take their business elsewhere due to the lack of personalization.
How can a personalized direct mail marketing campaign impact your brand's success?
Favorably, direct mail is already primed and proven to create a personal connection with its recipients. Not only can this marketing channel's sophisticated offline data be leveraged to advance the mailers personalized elements, but it can also be integrated throughout digital channels to create a cohesive and connective multichannel customer experience. Yet, as a new benchmark for personalization has emerged, direct mail marketers must continue to bolster personalization efforts (beyond customer name) to create and conserve customer affinity.
If personalizing direct mail with your recipient's name and incorporating full color can increase response rates by 135%, imagine the impact additional personalized elements can have on your brand's growth! With the right consumer data and direct response partner, advancing personalization efforts can be both impactful and attainable.
How to Personalize Direct Mail
First, optimize your data
Personalization is a data-driven process. Analyzing your first-party customer data from your CRM to identify the similarities and preferences of your consumers reveals valuable behavioral insights that can be leveraged for improved prospect targeting and list modeling. Contact information, social activity, demographics, property data, special interests, and purchasing history are all relevant data sets for personalization.
Best practices for optimizing your data:
Use multiple data sources: To help your marketing campaign reach success, look pass and demographic/geographic data points and towards niche and purchasing data when building your mailing list. These data sources are a better predictor of consumer behavior and preference.
Leverage data modeling: To get the most bang for your buck, use lookalike and predictive modeling and to grow your lists and ensure your mail will reach your unique target audience. This data best practice helps for program scale and increased conversions.
Then, get personal
Now, it's time to make your mail piece grab a prospect's attention. With variable data printing (VDP), you can swap elements of your direct mail piece (such as text, colors, images, etc.) from one piece to the next without interrupting the digital printing process. The result is a unique, relevant, and engaging piece for each prospect on your mailing list.
Best practices for creative personalization:
Change/add text based on locations: It can be very effective to use geographic personalization to create FOMO. For example, "See why <xx number> of your neighbors in <city> are enjoying ___."
Don't overuse your audience's name: While using a prospect's name once or twice creates a personalized experience, using it more than that can have the opposite effect and decrease customer engagement.
Next, coordinate for easy conversions
Your marketing efforts shouldn't be working alone. Make it as easy as possible for your prospect to take action by coordinating your online and offline campaigns. An integrated effort will improve customer retention and reduce your customer acquisition costs. Personalization data can be used to enhance your customer's experience and increase conversions with Personalized Landing Pages (PURLs), and pre-fill forms.
Best practices for coordinating channels:
Incorporate personalized QR codes: Consumers are very familiar with QR codes, so use them on your direct mail as a response driver to quickly connect individuals with a personalized landing page. This digital best practice adds an interactive personal touch to your mail while increasing your response probability.
Use your offline data to fuel your digital campaign: Onboard your direct mail lists into digital environments to surround your target audience on the channels they naturally engage with. Then use matchbacks and holdout to track your campaign performance.
Don't forget to test
Validate your direct mail personalization efforts with a regular direct mail testing strategy. Consistently switch up your personalized elements (special offers, visuals, copy, etc.) to see what resonates best with your audience to ensure your marketing strategy is optimized. Using test results and customer data to drive your campaign elements is the quickest way to strengthen program performance and increase brand loyalty.
Best practices for direct mail testing:
Understand that there are no wasted results: The end goal of a direct mail test is knowledge, not profit. No matter the outcome of the test, you will have learned what does or doesn't work, ultimately getting you closer to your best strategy.
Try a comprehensive testing strategy: SeQuel's FaQtor Test combines the success rates of multivariate testing with the low cost of A/B testing to discover the winning combinations quickly and affordably.
_______________
Now that you've learned how to personalize direct mail, and the impact it can have on program performance, it's time to convert generic advertisements into meaningful connections. These personalization efforts can play a pivotal role in creating lasting customer relationships.
Contact SeQuel today for more information on how you can connect to your audience with personalized direct mail and digital marketing.