SG360° Named SeQuel's 2021 David Forster Vendor of the Year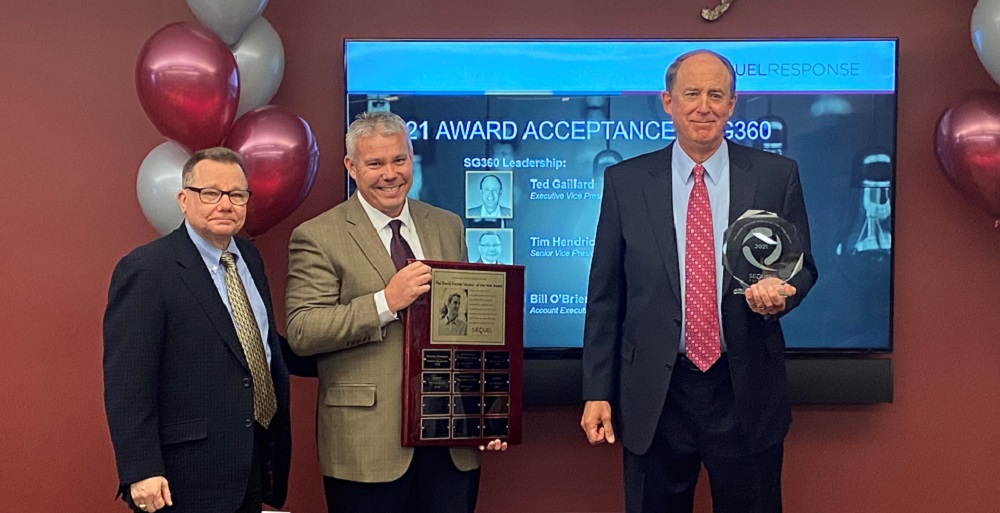 SG360° has been named SeQuel Response's sixth-annual David Forster Vendor of the Year, honoring the printing partner's display of concerted effort, integrity, proactivity, creativity, and unselfishness for 2021. The award was presented to SG360° representatives during a luncheon ceremony held on February 24. This is the third time SG360° has received this recognition from SeQuel, previously honored in 2018 and 2019.
"The SG360° team demonstrated exceptional effort and dedication in 2021, a year that can be categorized as one of the most tumultuous years in print manufacturing on record due to paper, labor and freight shortages in the wake of 2020. Time and time again, our colleagues at SG360° have demonstrated they are committed to being more than a vendor to SeQuel Response, they are a true partner," explained Paula Phipps, SeQuel's Director of Production. "Bill O'Brien (sales representative) and his team are aligned, integrated, and committed to the success of our clients and we could not have done it without them."
The award is named for David Forster, who worked with his mother, Sandy, at Little Pepper Promotions — SeQuel's branded clothing and gifts supplier. In June 2016, David passed away unexpectedly at age 27 while training for a marathon. Doctors later discovered that David had myocarditis, an inflammation of the heart that was likely caused by an unknown virus. In David's honor, SeQuel recognizes an outstanding vendor partner each year who demonstrates David's most admirable qualities.
 "2021 was anything but ordinary, yet SG360° continued to excel in their flexibility and innovative thinking, exemplifying all of the qualities of our Vendor of the Year, and then some," shared Erik Koenig, SeQuel's President & Chief Strategist. "SG360° is a tremendous advocate for SeQuel and our clients. Quick to offer creative alternatives, unique ideas, and stay one step ahead to produce a timely and quality final product."
Ted Gaillard, Executive Vice President of Sales at SG360°, accepted the award on the company's behalf. "We value this trusted partnership and our history with SeQuel. When you think about the past two years, the qualities that the David Forster Vendor of the Year Award recognizes; effort, proactively, integrity, creativity, unselfishness, etc., have been freely practiced between the SeQuel and SG360° teams as we work together towards success. The SG360° team is very proud to be benchmarked for these traits and honored to be a third time recipient of this meaningful award."
As part of the annual award, SeQuel donates in David Forster's name to a charity of the Forster family's choosing. SG360° generously matched the donation. This year, the gift will go to the Donald McNeely Center for Entrepreneurship's scholarship fund at the College of Saint Benedict and Saint John's University.
"Choosing this annual recipient is an opportunity for our employees to pause and celebrate the integral services our vendor base provides to SeQuel and its clients," said Jay Carroll, SeQuel's CEO and Co-Founder. "Recognizing a well deserving vendor like SG360° with an award that pays tribute to David Forster and his exceptional character is one of the most meaningful things we will do this year."