Direct Mail Design Case Study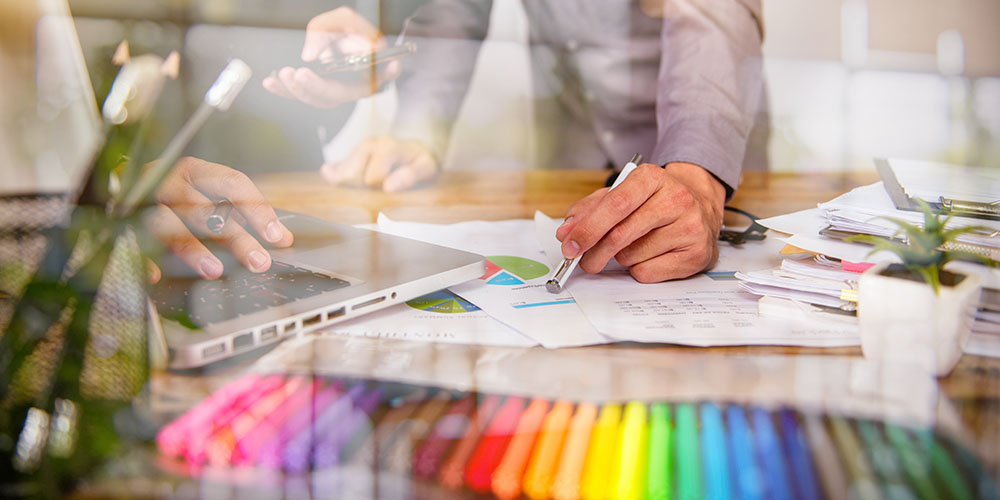 Rarely do new brands launch into the mail channel with a performing direct mail piece fueled by just one great idea. Rather, a winning direct mail design is the result of a refined blend of strategic testing, industry research, and creative best practices. Although this process aligns with the approach to launching into any new direct marketing channel, the most common problem endured by unexperienced mailers is how to build a sustainable creative testing strategy.
This article will detail the creative process one DTC brand followed to launch a direct mail program that achieved a 56% lift in sales rate in just 12 short months.
The Challenge
A credit card consolidation loan company was ready to launch into the mail channel with a pre-screen campaign that featured a firm offer of credit. The audience targeting data came direct from a credit bureau. The creative strategy for this acquisition campaign needed to be developed from the ground-up, as there was no existing program or direct mail design to reference.
Partnering with a proven direct response marketing agency who has success in the space was the brand's first step.
That's where SeQuel came in.
The Solution
There are four components to every successful direct mail campaign: list, offer, creative, and digital integration. The list and offer were already positioned to perform for this campaign, so the overall direct mail design and creative testing strategy became the priority.
SeQuel's experience with the debt consolidation industry allowed the creative team to design a pseudo control to create a performance baseline and measure against during testing. In addition to leveraging our own learnings over the years, the creative team also examined mail pieces sent by the brand's competitors – ultimately executing three additional concepts.
Taking a big swing for the fences, the brand entered the market with SeQuel's FaQtor Test methodology to test a total of four creative concepts. This initial test promptly earned a 19% lift over the pseudo control.
From there, SeQuel conducted some smaller incremental testing to explore other creative elements such as official vs. promotional concepts. In parallel to the incremental testing, digital pre-testing (pre-testing possible creative elements of the direct mail campaign in a digital environment) was also taking place to zero in on copy and positioning variations that performed well with the target audience.
The brand then re-entered the mailbox with a back test campaign featuring new creative that leveraged the digital pre-testing learnings. The back test produced another 16% jump in sales over the pseudo control.
The final round of digital pre-testing focused on unique benefits statements. The creative team applied those learnings to a final direct mail design, and the brand mailed one more validation campaign. This last mailing achieved another 8% lift in sales – allowing the brand to successfully identify a control creative to profitably grow the business through mail.
In total, the new control resulted in a 56% cumulative rise in sales rate.
The importance of digital integration in direct mail campaigns.
By aligning your offline and online channels, you are reaching your best prospects across multiple media.
SeQuel Surround combines three vital digital strategies to target your best audience, improve direct mail response, and boost your overall campaign performance.
Digital pre-testing. With so many ways to address copy or key points in your mail, digital pre-testing is great for brands who have never mailed before, or for current mailers looking to efficiently test a broad range of incremental ideas. Since it is administered in a digital environment, this type of testing is also more affordable than conducting a full-scale direct mail test.
Digital pre-testing starts with the true target audience file (developed with offline data for mail), and then leverages a deterministic identity graph to identify those same individuals online. Next, digital ads are served to your audience to test creative element variations, such as headlines or benefit statements, to indicate what may perform well in a subsequent mail campaign.
Informed delivery. Offered by the USPS, Informed Delivery is a free service that delivers consumers a daily digital preview of their direct mail via their email inbox. At SeQuel, this program is foundational to our mail campaigns and offers new mailers a good entrée into digital integration.
Digital integration. Using the same process as digital pre-testing, we can attach your offline data to your online audience. Then, we surround your audience with digital touchpoints around your in-home mail window. The digital advertising is purchased programmatically and can include display, CTV|OTT, connected audio, social, and even email.
The Winning Direct Mail Design
The best creative is the creative that sells. Just as important as diligent direct mail list testing, ongoing creative testing is key to developing an evergreen mail program. Here is this client's best performing concept (so far), and the rationale behind  the creative direction.
Please note, the brand in this direct mail example has been anonymized but the creative elements have not been altered.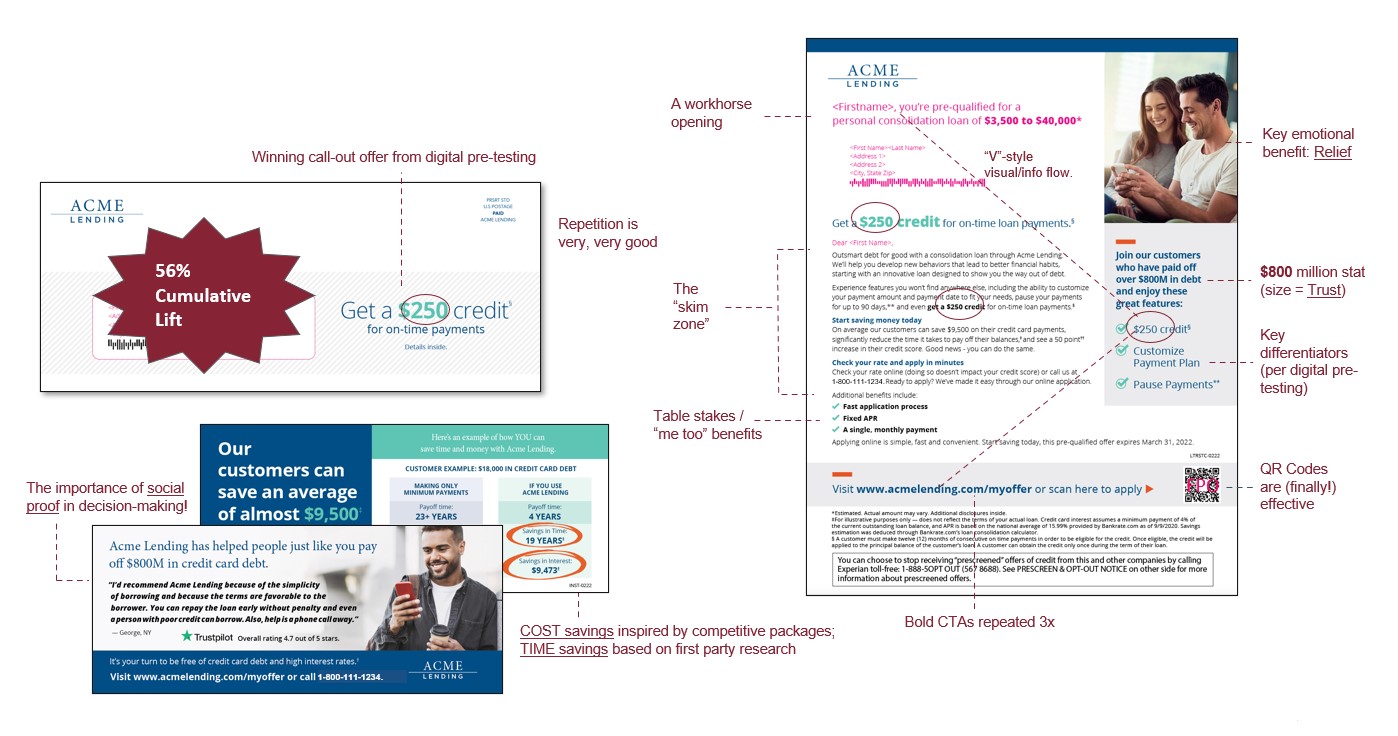 The Format
A #10 window with 8.5" x 11" letter and insert. The offer itself was one of the options identified via digital pre-testing. Including the offer on the outside of the envelope encourages the recipient to look inside the piece. The offer was also repeated throughout the inside letter.
The Design
Heat map research indicates readers follow a V-style pattern when they first scan a letter: top, to right, to bottom. It is a direct mail design best practice to place key response drivers and messaging directly on this path.
The top features a "workhorse" opening, accomplishing a feeling of personalization, exclusivity, and benefit.
Research shows we are naturally drawn to human faces, so human images were included on the right to show the key emotional benefit: relief. Additional copy on the righthand side highlights key differentiators that were identified during digital pre-testing.
The bottom is the home to the campaign's call to action (CTA), leading consumers directly to attributable response channels. This piece includes a custom URL, toll-free number (TFN), and QR code. This CTA is repeated three more times throughout the piece.
The skim zone to the left of the V is home to more in-depth messaging and benefits.
The Insert
Inserts create an extra element of interaction for your audience. Separate from the letter, this prime real estate includes some of the brand's most important messaging. In this example, we leveraged one side to feature social proof – a key influencer on consumer decision-making.
A great direct mail testimonial should be complimentary and informative, ultimately quantifying the consumer's return on investment. The client quote in this example supports the simplicity of the process, addresses possible hesitations (bad credit), and provides reassurance that the brand will assist along the way. Pairing the statement with a Trust Pilot rating boosts credibility and authenticity.
The other side of the insert focuses on consumer savings, both cost savings and time savings. These elements were inspired by competitive research and reinforced during digital pre-testing.
The debt consolidation brand's goal was to achieve a profitable, predictable, and scalable evergreen mail program. A strategic blend of creative hypothesis, competitive research, industry experience, and digital pre-testing allowed us to make this goal a reality.
If you're looking for more tips on direct mail design and creative strategy, check out "Utilizing Direct Mail Creative to Alert and Convert: Secrets from the Pros." This free e-book is packed with direct mail creative best practices to generate response and boost campaign performance. For quicker read, check out our infographic on how to design a successful direct mail piece.
This case study was originally presented during BRAND United's 2022 Dynamic Direct Mail Campaigns, Innovations, Performance, Marketing Integrations and Advocacy webinar.