4 Common Direct Mail Myths, Debunked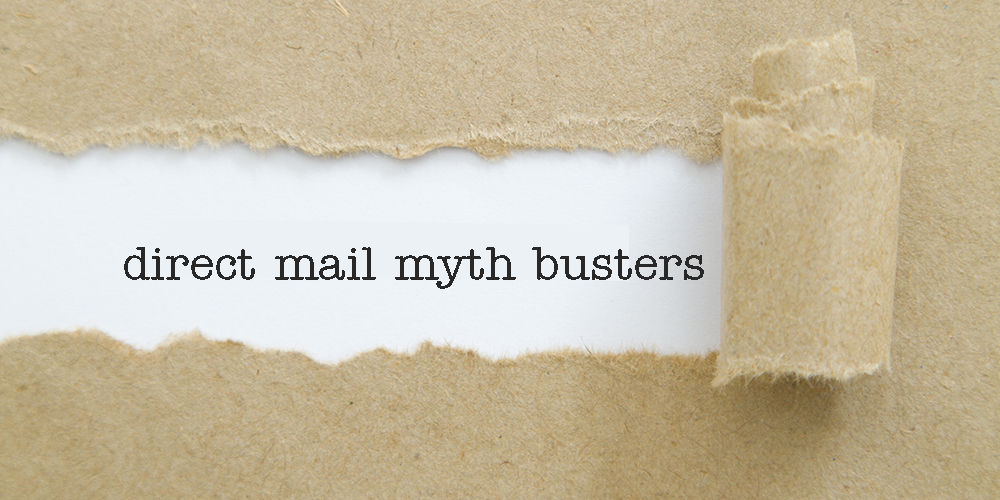 Even in our hyper-digital world, direct mail is still a marketing powerhouse. Surprised? Perhaps you have dismissed mail before due to misconceptions about the channel. Read on as we share recent industry data and real brand results to debunk the most prevalent direct mail myths and prove just how impactful this growth channel really is.
Myth: No one uses direct mail anymore.
In 2019, marketers mailed 53.7 billion pieces of direct mail. In a recent IAB survey, six out of ten marketers prefer direct mail over other offline channels and include it in their direct marketing strategy.
Marketers agree that integrating direct mail and digital campaigns increases website visits, conversion rates and ROI. Direct mail's digital innovations have made the medium more effective and relevant than ever before. Direct to consumer (DTC) brands are using direct mail to drive e-commerce with personalized content (VPD and PURLs), interactive creative elements (QR codes, video, AR, VR, and more!), retargeting campaigns, and USPS Informed Delivery which provides digital previews of offers before they reach a consumer's mailbox.
If your DTC brand is looking to grow and not yet active in the mail channel, you're missing out! As digital fatigue continues to set in with consumers, direct mail is getting noticed. Download our free e-book, Why Direct Mail Delivers for DTC Brands, to learn how growing brands are winning with direct mail. 
Myth: Direct mail does not work.
This one is our favorites to debunk! Here's why …  direct mail response rates are 6x higher than all digital channels combined! In the State of Customer Engagement 2020 Report, marketers indicated direct mail is more effective than digital display and paid search ads for engagement, lead nurturing and customer retention. Just in case you are still on the fence, here are five more things to consider:
Nearly 90% of purchase decisions are made at home (BusinessWire)
90% of direct mail gets opened (ANA)
70% of consumers prefer traditional mail for unsolicited offers (ANA)
40% of millennials regularly purchase items featured in direct mail advertisements (USPS)
An abundance of neuroscience and behavioral research that proves direct mail effectiveness…
Myth: Direct mail is too expensive.
Although the initial cost of direct mail may be higher than digital channels, so is its ROI. In fact, we've seen brands reach their direct mail ROI in as little as 30 days. If your brand is looking to scale customer acquisition, it's important to consider the relationship between LTV and CPA, and how these metrics impact your bottom line. Marketers must also recognize that integrating direct mail marketing into omnichannel strategies generally decreases CPAs while increasing conversion rates and consumer spend.
Finding the right audience to target for a direct mail campaign is most of the battle. Predictive modeling is a process that leverages customer insights (a delicate blend of first party and third-party consumer data) with data science to identify the prospects with the highest potential for a specific marketing outcome – ultimately creating your mailing list. Working with a credible direct marketing agency ensures efficient data modeling and affordable testing to reach your best audience, optimize your campaign, and expertly achieve your ROI, faster.
Myth: Direct mail attribution is impossible.
Direct mail attribution may seem challenging, but it's hardly impossible. In fact, only 4% of marketers have reported being unsuccessful in incorporating offline media into their attribution models.
A comprehensive attribution strategy paired with a multi-touch attribution model will give you the valuable data needed to identify direct mail's effectiveness throughout the buyer journey. Direct mail is unique to other direct response channels because you know exactly who has received your message, making it easy for sales to be matched back to the original mail file. To further understand which matchback sales are incremental, direct marketers can implement a holdout strategy.
Don't let these direct mail myths prevent you from evolving your direct marketing strategy with a channel that is still relevant and profitable. In fact, check out these direct mail statistics to learn  more about the channel and how marketers are using it. Whether you have never tried direct mail because of unfamiliarity or tried direct mail in the past and failed, let us show you what your brand can achieve through a data-driven approach to direct marketing.