Boost Your Holiday Direct Mail Campaign Performance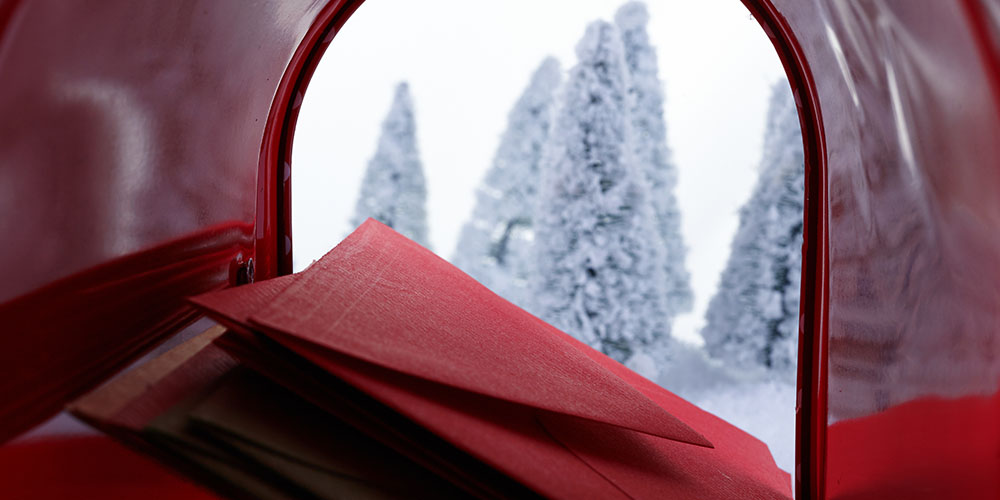 Sitecore holiday trend research found consumers are planning to spend more this year than last – some even indicating they are increasing their shopping budget by 50%! With one in three businesses revealing the holiday season is responsible for 69% or more of their annual sales, a well-constructed seasonal mail campaign can help your brand capture these ripe and ready buyers. Consider these three creative enhancements to boost your holiday direct mail campaign performance.
Increase brand visibility
Sending direct mail over the holidays is a great way to bring your brand to life while standing out from the digital advertising blitz. Switch up the format with an oversized envelope or postcard to really stand out, and incorporate unique textures, foils, tear-aways or embellishments to lengthen the interaction time with your package. Feature images and colors that promote feelings of holiday excitement and nostalgia to appeal to your audience on an emotional level – ultimately driving campaign engagement and response.
The offline consumer data used to build your mailing list and consumer models is very effective when used in targeted digital advertising programs, and does not rely on cookies or conversion pixel data. Leveraging your list sources to coordinate a targeted and cohesive online campaign around your mail's in-home window maximizes your consumer touch points and brand visibility to increase campaign effectiveness and lower acquisition costs.
Deliver what they really want
In the same Sitecore survey, more than half of consumers agreed they are happy to share their browsing history with brands in exchange for more relevant product advertisements and recommendations.
Use your valuable customer and prospect data to create a personalized brand experience by sending relevant and engaging direct mail over the holidays. Include offers such as early discounts, exclusive pre-sale deals, limited-edition products, and even free gifts for loyal customers. This year's consumers consider influencers a source of inspiration when identifying seasonal gifts or trends, so consider repurposing your digital marketing influencer content in your holiday direct mail creative to give your prospect list additional credence needed to convert.
Make checkout easy
Forced account creation, a complicated or time-consuming checkout, and even missing promo codes can cause an average of 70% of customers to abandon a site after adding an item to their cart. As M-commerce shopping continues to grow in popularity among shoppers, the best holiday direct mail campaigns will provide a seamless transition between printed media and mobile devices. 
You can use your holiday direct mail to reduce payment frictions and increase response by simplifying the conversion process with mobile-friendly QR codes. Enhance the customer experience by linking consumers directly to a checkout landing page with their contact information and your offer or promo code information auto populated. If automated form fills are not an option, place your promo codes front and center (and repeat it throughout your piece) to make it easy for the consumer to spot them on your mail piece. QR codes can also be used to connect consumers directly to your customer experience team by queuing chat messaging and short videos to address consumer inquires or support issues.
Looking for more holiday direct mail resources? We've got you covered.