Direct Mail Strategies in 2023: 5 Essential Charts for Marketers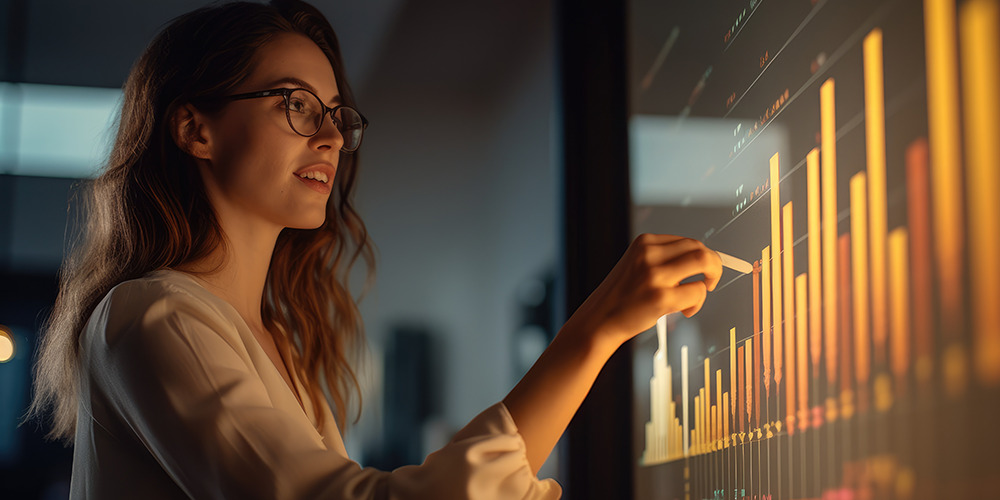 The past twelve months have introduced yet another new era of direct marketing. As brands have adapted to recent marketplace shifts, direct response marketing plans also had to evolve. As a crucial channel, direct mail strategies in 2023 have remained steady, capitalizing on mail's unique strengths to engage consumers in a more personalized and impactful way.
With our second annual release set to publish in late August 2023, the Direct Mail Industry Benchmark Report is a go-to resource for valuable insights into consumer behavior and industry trends. It examines B2B and B2C brands' tactics in engaging consumers through direct mail marketing, drawing from extensive marketer and consumer surveys.
We've handpicked five must-see charts from the upcoming 2023 report that we just couldn't wait to share. Keep reading for a first look at mail performance and consumer sentiment, plus insights on how you can adapt your direct mail strategies in 2023 and beyond for continued success.
Direct mail channel performance remains strong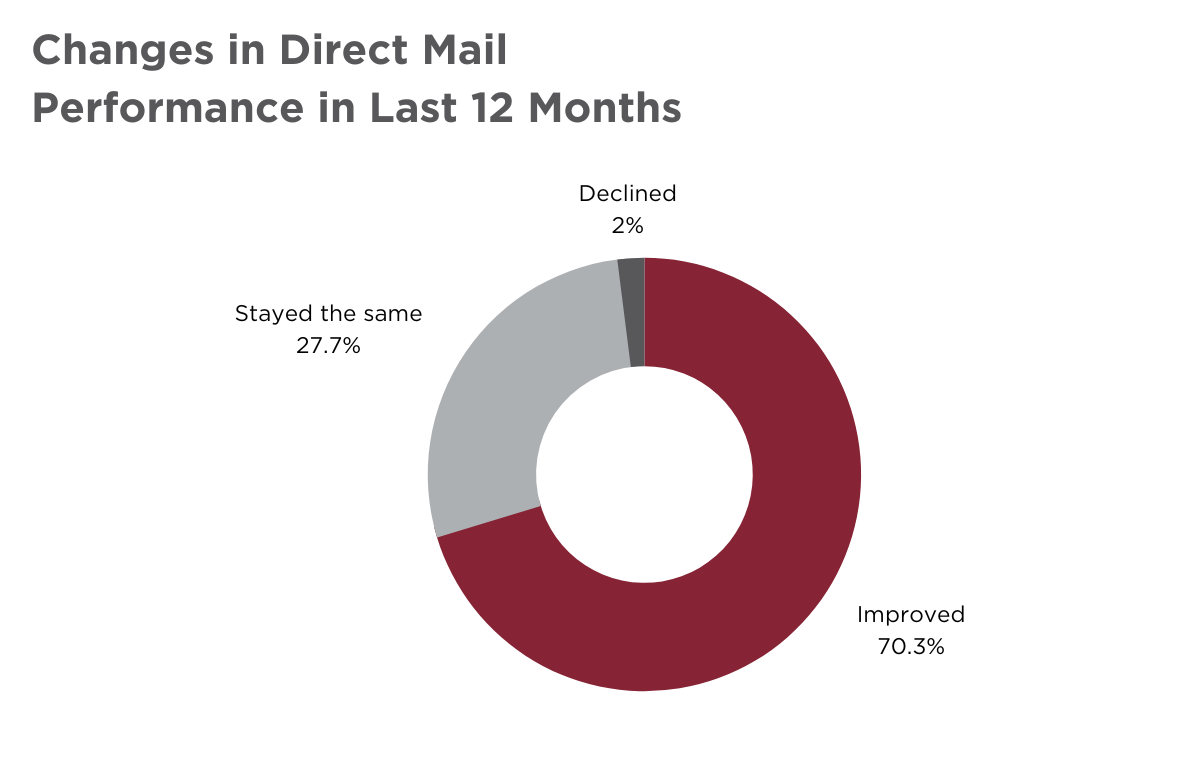 70% of surveyed marketers indicated direct mail's performance has improved over the last 12 months – an increase of 5% from our 2022 survey. Additional industry research mirrors this data, including ANA's 2022 Annual Response Rate Report which found that direct mail's ROI outperforms all other direct marketing channels. Direct mail's ability to deliver targeted, personalized, and engaging experiences is what makes it such a customer acquisition powerhouse. In challenging environments, it's expected that marketers will demonstrate increased faith in the marketing channels that can be trusted for measurable response rates and conversions.
Postcards are a favorite among consumers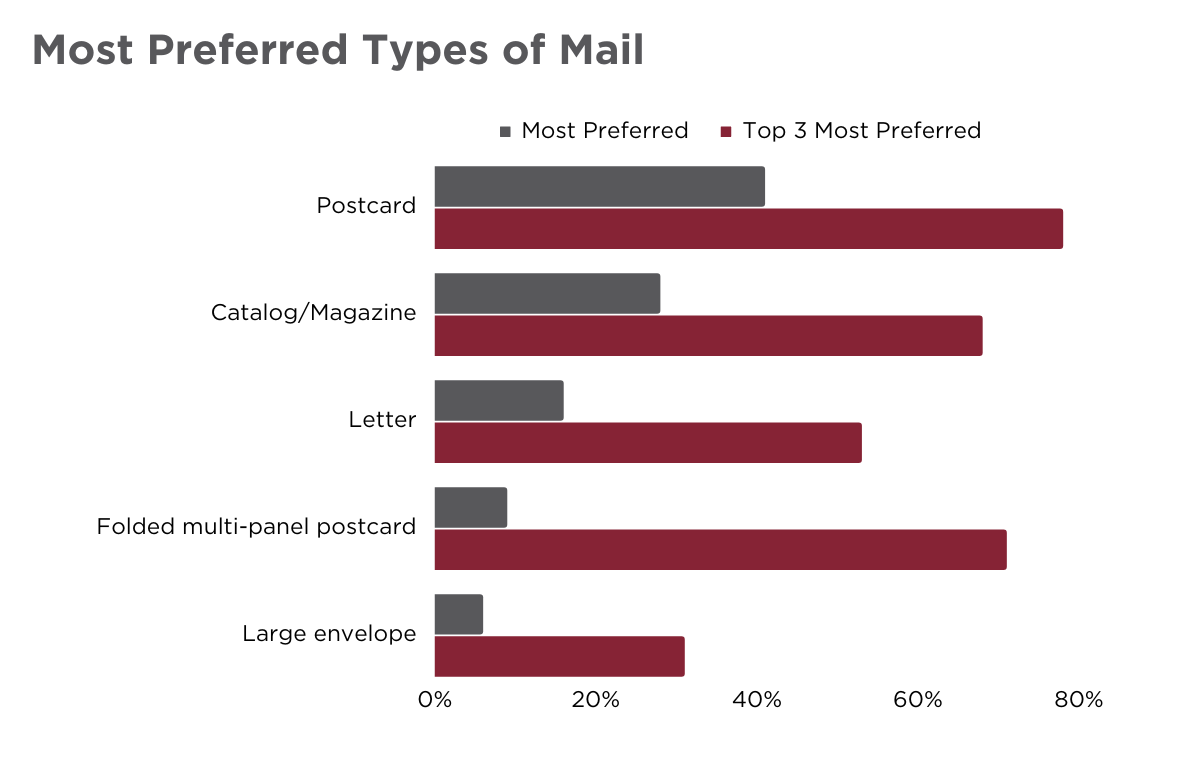 78% of consumers identified the postcard as one of their top preferred types of mailers. 41% declared it their most preferred format overall – above catalogs, self-mailers, and letters. Consumers love direct mail postcards for the easy-to-understand, concise messaging. For marketers, they are quick to produce, affordable, and effective. If you're considering a new creative format for your direct mail strategy in 2023, consider testing postcards against your control to determine what performs best for your message and audience.
2-3 touchpoints is the sweet spot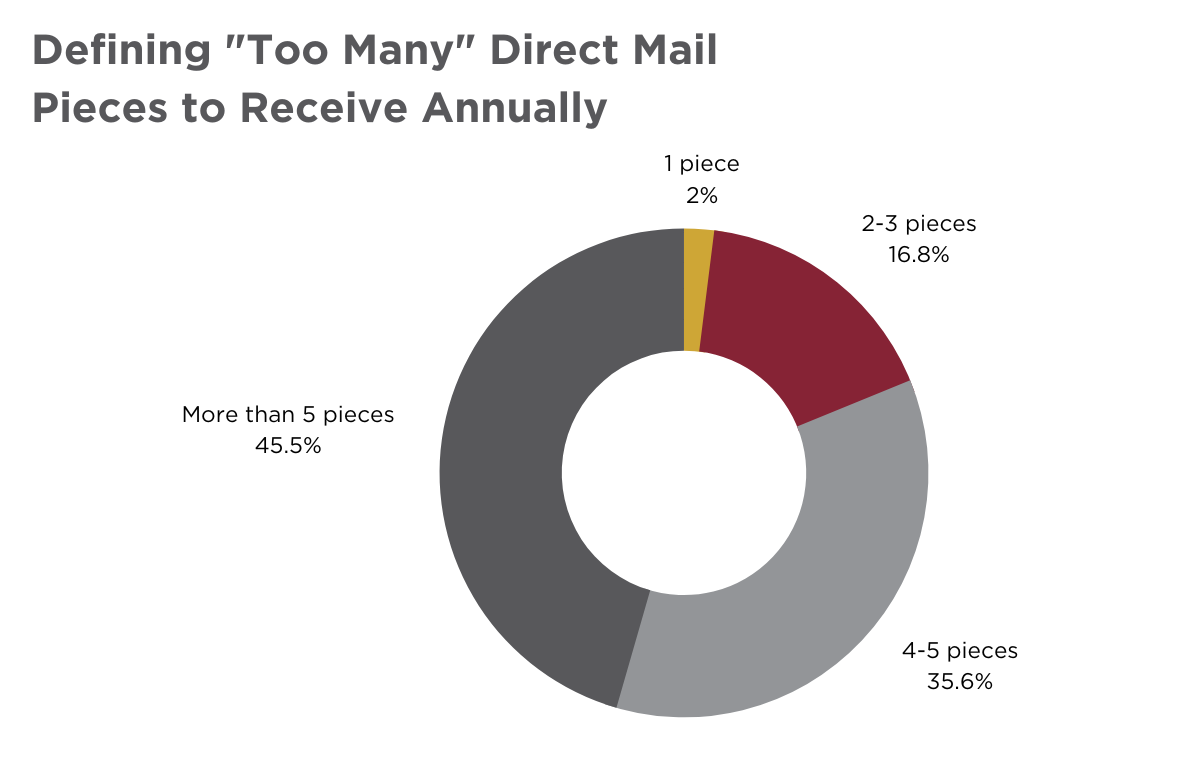 Direct mail frequency can be integral to the success of a direct mail campaign. More than 80% of consumers say receiving four or more direct mail pieces from a single brand in a year is excessive. Only 17% of respondents stated that two to three pieces are too many, making it a great starting point for brands new to the channel. It's essential to remember that quality is often more important than quantity, but it's ultimately dependent on your brand and goals. By experimenting and analyzing the performance results, you can fine-tune your mailing cadence and ensure maximum engagement and response from your target audience.
Consumers agree that direct mail is more influential than popular digital mediums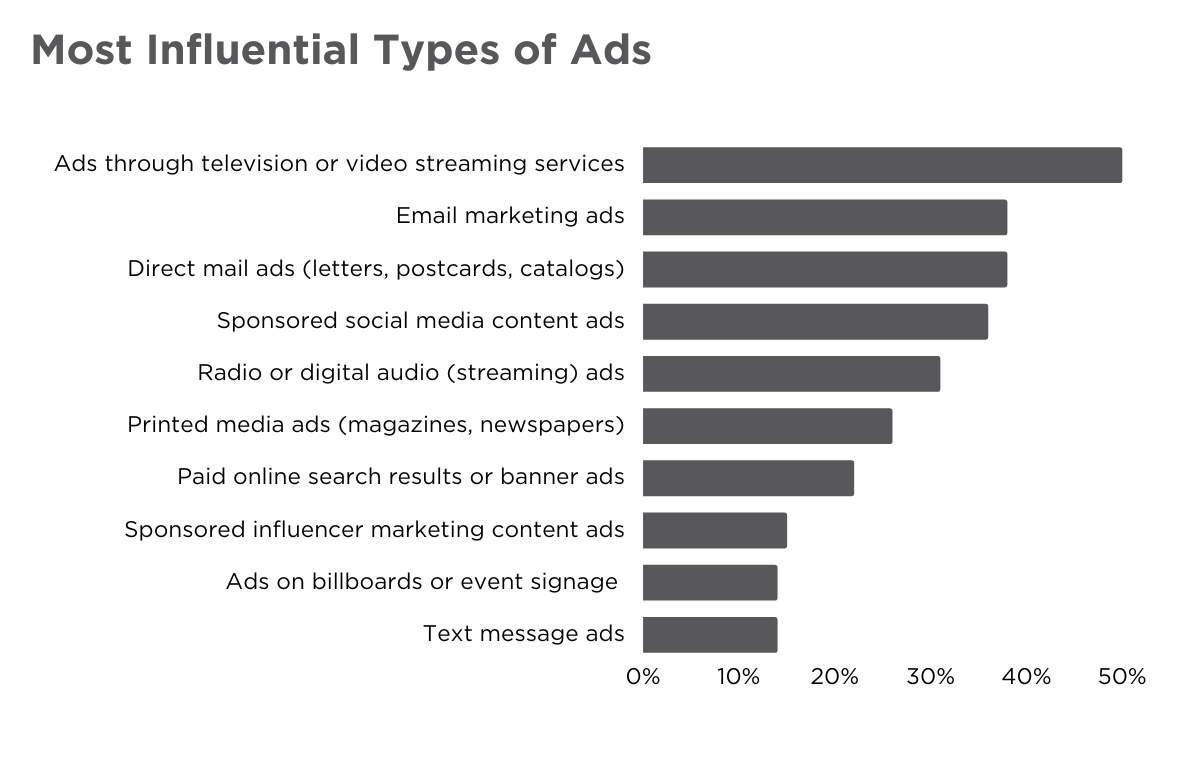 When asked about the most influential types of ads that drive them to make a purchase, 50% of consumers preferred ads through television or video streaming services. Tied for second place at 38% were e-mail marketing ads and direct mail ads (letters, postcards, catalogs). Mail offers the personal and memorable experience consumers crave, separating itself from the overwhelming number of advertisements served on popular digital marketing channels, including social media ads and influencer marketing content.
The future is automated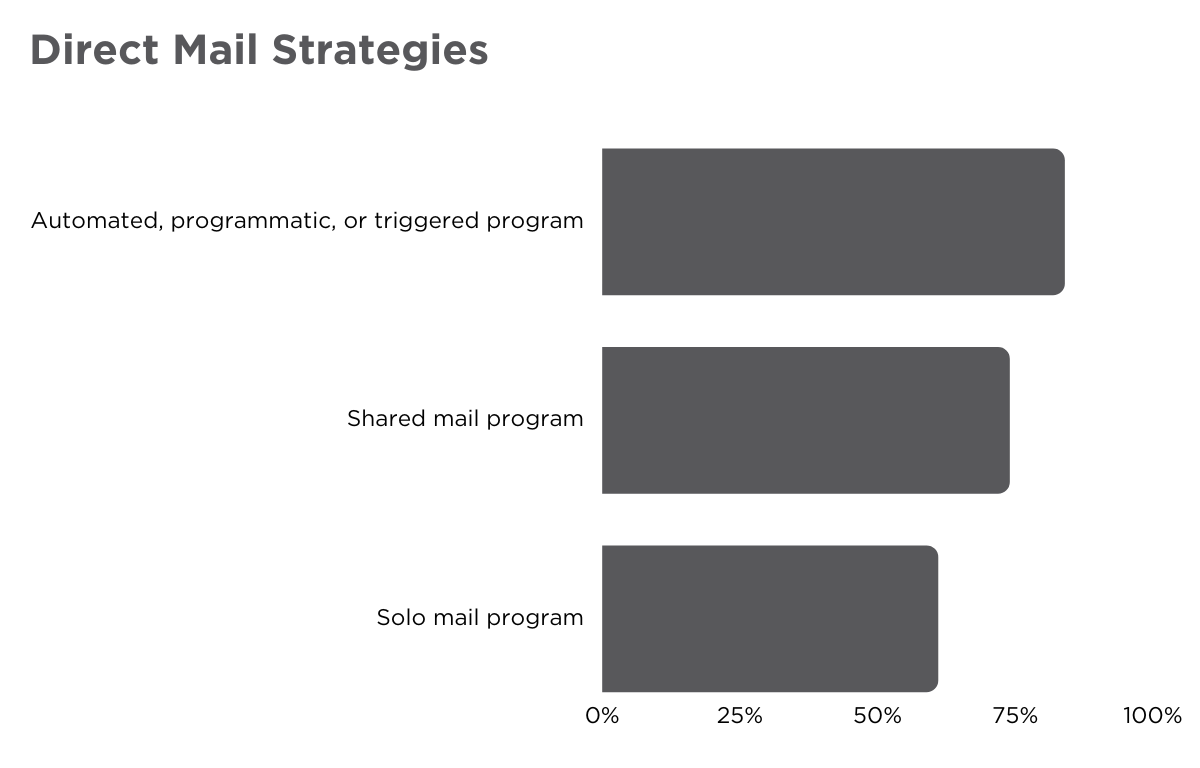 Our research found that direct mail automation is used by 84% of marketers. When asked about innovative ideas and strategies for future marketing campaigns, marketers indicated that automation is the most likely to be assessed this year, edging just past creative and digital integration strategies. Marketing teams are expected to do more with less this year, and direct mail automation and programmatic technology enable marketers to maximize the potential of their direct mail programs by streamlining processes, improving efficiency, and enhancing personalization while saving time and resources.
---
It is crucial for CMOs to serve as catalysts for change and consistently innovate the tools required to propel their marketing efforts forward. The key to successful direct mail campaigns lies in adopting a data-driven approach and tapping into the power of performance analytics and industry insights.
The 2023 Direct Mail Marketing Benchmark Report shows how brands are adapting their strategies and marketing messages to deliver exactly what consumers desire. Join our mailing list to be the first to receive this year's report and stay informed about the ever-evolving direct mail industry.
Are you looking to optimize your direct marketing strategy in 2023? Contact a SeQuel Marketing Strategist today to integrate mail into your marketing mix and get more return out of your marketing budget.