The Fork in the Road: What's Next for My Direct Marketing Strategy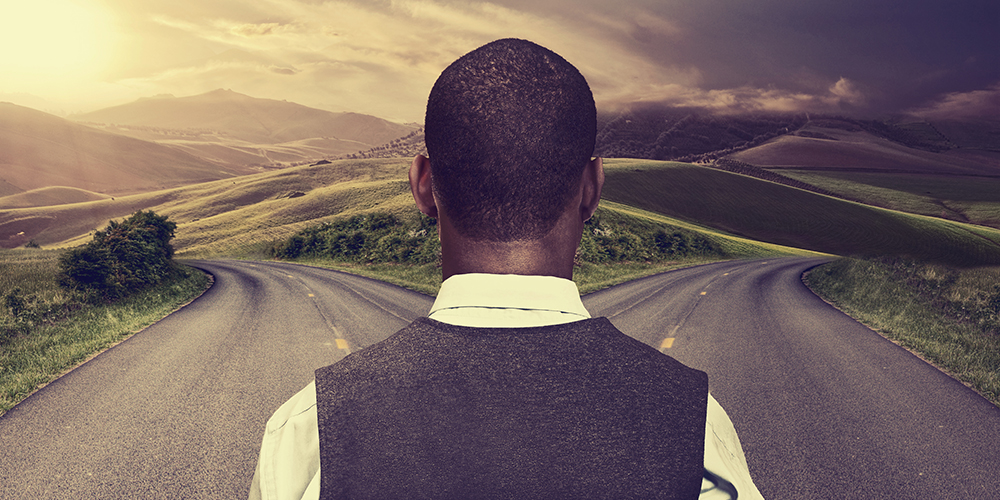 Brand recall, trust, and retention is higher when your message is visible and cohesive across multiple channels. So naturally, when you find your digital channels approaching their customer acquisition ceiling, you know it is time to diversify your direct marketing strategy with a new media. Linear TV, Connected TV (CTV|OTT), influencer marketing, and direct mail are all viable options, but where should you turn first? We call this the fork in the road.
When budgets are tight and expectations are high, investing in an unfamiliar channel can be intimidating. But identifying the next best pivot for your brand doesn't have to be. If the direct mail channel is new to your brand, download the free e-book, Direct Mail 101: How to Grow and Scale with Direct Mail. Inside you'll find 7 short how-to guides to help you build a targeted and valuable direct mail program. 
Keep reading for an overview of today's emerging channels to help you determine which direct marketing strategy is best for your brand's growth goals.
Linear TV: Is brand awareness enough?
AdWeek reports pandemic uncertainties have left Q2 2020 linear TV ad spend down 48% among top direct-to-consumer (DTC) brands. However, some marketers chose to take advantage of the lower ad costs and increased inventory to test the channel during the coronavirus outbreak. The temporary rate reduction has already started to climb as media buyers anticipate calendar-year advertisers will pay premium pricing this fall.
Linear TV is recognized for its ability to reach large audiences and boost brand awareness, but its attribution is far from the sharpened measurements available to digital media users. You may see an increase in website traffic or obtain minimal data from purchasers who indicated they saw your ad on TV during checkout — but is that truly measurable and actionable?
CTV|OTT: The young and the complex
The unexpected surge in this year's at-home audience pushed the still maturing connected TV (CTV) and over-the-top (OTT) industry to grow quickly as brands poured ad spend into streaming media. CTV|OTT advertising is sold on a cost per thousand (CPM) basis, starting at CPMs of $15 – $50 but quickly increasing based on inventory quality. If you have yet to pull the trigger on the channel, be aware that increased competition has left limited inventory for novice advertisers and programmatic-only traders. Many seasoned purchasers have already negotiated and reserved premium slots.
Although digital natives appreciate the granular targeting and retargeting capabilities offered by CTV and OTT, the inconsistencies among platforms, devices, and providers make efficient targeting, frequency management, attribution, and measurement incredibly complex. As with linear TV, producing professional, quality advertising content can cost upwards of hundreds of thousands of dollars based on your creative vision. Before shifting CTV to centerstage in your marketing mix, we suggest you read this.
Influencer marketing: Two truths and a lie
In response to rising consumer distrust in brand marketing, marketers expanded their social media strategy to include influencers. The State of Influencer Marketing 2020: Benchmark Report found that 91% of marketers believe influencer marketing is effective, and 80% plan to budget for influencer marketing in 2020. Yet in that same report, more than 2/3 of respondents indicated they have experienced influencer fraud, and that's not the only concern.  
Influencer marketing can be a great enhancement to your social strategy and help expand your audience reach, but it will not provide the clear actionable analytics or attributable ROI of traditional channels. If you have a niche product or service, it can also be a challenge to find an influencer whose persona and audience aligns with your brand and strategy. Influencer costs are based on audience reach, type of partnership (i.e. exclusivity, shoutouts, or giveaways), their average engagement rates, and the type of post (image, video, audio) you are requesting. Sponsored posts can be as cheap as $1,000 each or up to $500,000 for top celebrity endorsements.
Direct Mail: Yes, you can have it all
As one of the most effective channels for customer conversions, direct mail has sustainably supported the growth of countless DTC and e-commerce brands. Direct mail has all the targeting and attributable elements you love about digital, with the added benefit of being hand delivered by the most trusted brand in the country. Its versatility lends to success in prospecting, re-targeting, and CRM-based mail campaigns, while strategic testing capabilities enable you to quickly optimize your program for continued conversions and scale.
Direct mail can integrate with digital channels (such as social media and CTV) to boost customer acquisition, consumer spending, and brand recognition. Onboarding your direct mail audiences into an online environment allows you to reach your best prospects on the platforms they interact with each day, naturally guiding them to the next step in their buyer journey. However, running a seamlessly coordinated campaign can be difficult to implement and manage at scale. Partnering with a direct marketing agency ensures your strategy, audience, creative, and mail package not only achieves your campaign goals, but also maximizes performance.
When you come to the fork in the road, consider anchoring your marketing program in a versatile and scalable channel that can support your current and future growth goals with measurable results. Most importantly, invest in a channel that can be integrated into your overall direct marketing strategy for a holistic approach to customer reach and connection.
Give us a call to learn how to responsibly test the direct mail channel and incorporate your digital channels to reach your best audience and optimize program performance.
Featured in Business2Community on 12.7.2020.